The Blue Blazes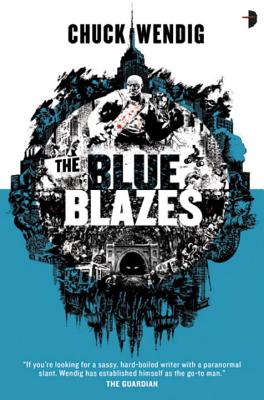 The Blue Blazes
Angry Robot, Mass Market Paperbound, 9780857663351, 400pp.
Publication Date: May 28, 2013
* Individual store prices may vary.
Buy at Local Store
Enter your zip code below to purchase from an indie close to you.
or
Not Currently Available for Direct Purchase
Description
Meet Mookie Pearl.
Criminal underworld? He runs in it.
Supernatural underworld? He hunts in it.
Nothing stops Mookie when he's on the job.
But when his daughter takes up arms and opposes him, something's gotta give...
File Under: Urban Fantasy Family Matters - When Underworlds Collide - Thrill of the Hunt - Chips and Old Blocks ]
About the Author
Chuck Wendig is a novelist, screenwriter and game designer. He's the author of many published novels, including but not limited to: Blackbirds, The Blue Blazes, and the YA Heartland series. He is co-writer of the short film Pandemic and the Emmy-nominated digital narrative Collapsus. Wendig has contributed over two million words to the game industry. He is also well known for his profane-yet-practical advice to writers, which he dispenses at his blog, terribleminds.com, and through several popular e-books, including The Kick-Ass Writer, published by Writers Digest. He currently lives in the forests of Pennsyltucky with wife, tiny human, and red dog.
Praise For The Blue Blazes…
"I loved the intensity of flaws each character possessed. There wasn't a single soul (or nonsoul) in this story who didn't have some gigantic flaws and they seemed ripe for the pickin' and boy does Chuck know how to do it."
-Bite My Book

The Blue Blazes is a fun, fast-paced novel that blends the best of noir, a Dungeons & Dragons Monster Manual, and melodrama into something special.
-Fantasy Faction

"So if you need something dark, gritty, and fun, I recommend The Blue Blazes."
-Three Crow Press 

"Wendig has taken the cast of Goodfellas and dragged them, kicking and screaming into a fantasy reality of New York, opened up the playground and let them run loose"
-Wilder's Book Review

"punchy dialog, snappy prose, and a gritty narrative voice"
-Odd Engine

"imaginative, funny, profound, tough, and poetic all at once"
-Elf Machines from Hyperspace

"In the end, The Blue Blazes is a blast, an awesome, smartly written novel that far exceeds the sum of its parts"
-Rob Bedford, SFFWorld

"…a heart-stopping ride from beginning to end. I think it is my stand out book of the year..."
-Jane, Book Chick City

"Rounded off with an emotional finale, The Blue Blazes is a serious contender for book of the year."
-Alister, Starburst Magazine

"It's a brilliantly imagined world, as ick-inducing as it is, and it's easy to see Mookie's place in it."
-Vampire Book Club