The Comedy Is Finished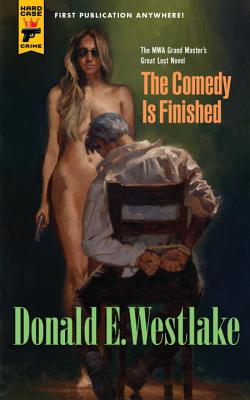 The Comedy Is Finished
Hard Case Crime, Hardcover, 9780857684080, 351pp.
Publication Date: February 21, 2012
* Individual store prices may vary.
Buy Now
or
Shop Local
Enter your zip code below to purchase from an indie close to you.
Description
The year is 1977, and America is finally getting over the nightmares of Watergate and Vietnam and the national hangover that was the 1960s. But not everyone is ready to let it go.
Not aging comedian Koo Davis, friend to generals and presidents and veteran of countless USO tours to buck up American troops in the field. And not the five remaining members of the self-proclaimed People's Revolutionary Army, who've decided that kidnapping Koo Davis would be the perfect way to bring their cause back to life...
The final, previously unpublished novel from the legendary Donald Westlake.
About the Author
Donald E. Westlake (1933-2008) wrote over a hundred novels under his own name and pseudonyms. Many of his books have been made into movies, including The Hunter, which was filmed as Point Blank; the 1999 smash hit Payback; and the 2013 movie Parker. The winner of the three Edgar Awards, he was named a Mystery Writers of America Grand Master, the highest honor bestowed by the society, in 1993.
Praise For The Comedy Is Finished…
"The characters are well drawn, the dialog flows, and the chapters speed by, making for a breezy, solid read. This late discovery is a welcomed treat for Westlake's many fans. A natural for all mystery collections." - Library Journal

"One of the best Westlake novels I've read." - Washington Post
 
"A terrifying sprint for redemption and rescue with the reader kept in agonizing suspense until the literal last page. Not to be missed." - Mystery Scene
           
"A tense, compelling story...painfully insightful...[readers will] be hard-pressed to put the book down." - Booklist
 
"Halfway into January and we already have the first great book of 2012…some of the finest work of the author's career. And that is truly saying something." - Vince Keenan
 
"We're all in the presence of the master one last time." - Open Letters Review
 
"Sharply written and insightful…a worthy addition to Westlake's lengthy catalogue." - Publishers Weekly
 
"Unexpectedly moving." - Detectives Beyond Borders
 
"…a master at the top of his game." - Slacker Heroes
 
"Surprisingly emotionally potent…God bless Charles Ardai and Hard Case Crime." - Barnes & Noble Ransom Notes
 
"A real page turner…Westlake's book is hot with fear, remorse, lust and violence…" - Ed Gorman
 
"Westlake is a master of ratcheting up the tension…the book is highly recommended." - Bill Crider
 
"A masterful little gem." - In Reference to Murder