False Negative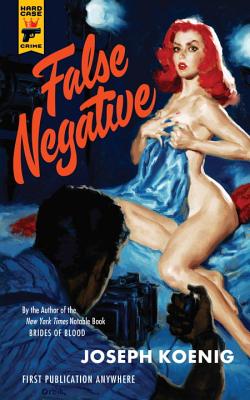 False Negative
Hard Case Crime, Paperback, 9780857685803, 251pp.
Publication Date: June 5, 2012
* Individual store prices may vary.
Buy at Local Store
Enter your zip code below to purchase from an indie close to you.
or
Buy Here
Description
Adam Jordan wrote the best and worst articles of his journalistic career on the same day. The worst was bad enough to get him fired - but the best landed him a new job, penning lurid articles for Real Detective magazine, one of the last of the true-crime pulps. 

Only the case they've got him working on, involving a beauty pageant contestant found dead on an Atlantic City beach, is one some very powerful men would rather see covered up than covered. And if Adam keeps digging, he may find he's digging his own grave... 
About the Author
Nominated for the prestigious Edgar Allan Poe Award for Best First Novel for "Floater" in 1986, Joseph Koenig followed this debut with three more novels in close succession, culminating with the "New York Times" Notable Book "Brides of Blood" in 1993. He hasn't published a novel since - until now. "False Negative" marks the author's triumphant return to publishing with his most personal novel yet, a tale of the last days of the pulp era told as only a veteran of that era could tell it.
Praise For False Negative…
"Twenty years after Brides of Blood, Koenig weighs in with another gritty, no-holds-barred, hard-boiled whodunit set in the 1950s. Gifted journalist Adam Jordan, too tired to attend a congressman's routine speech, fakes an article, only to learn later from his editor that the politician dropped dead before going on stage to deliver it. Now a pariah, Jordan manages only to land work with a seedy New York City true crime magazine, Real Detective. When he tries to solve the fetishistic strangulation murder of an attractive 22-year-old waitress found hog-tied on a Long Island beach, his probing leads him to more corpses and a narrow escape from death. Razor-sharp prose (e.g., "Wing's dreams were short on specifics until he was in New York with a knife in his pocket") and a fast-moving plot will please Mickey Spillane and Cornell Woolrich fans. With any luck, readers won't have to wait another 20 years for Koenig's next book." - Publisher's Weekly

Joseph Koenig (author of Little Odessa and Brides of Blood) returns from a 20-year absence from the publishing scene with a whopper of a thriller. While written in modern-day America, Koenig captures all the spirit and flavor of the 1950s. - Celebrity Cafe

"False Negative marks the return of a writer who knows dialog, colorful yet real characters, and how to make an original premise." – Comic Attack