Seduction of the Innocent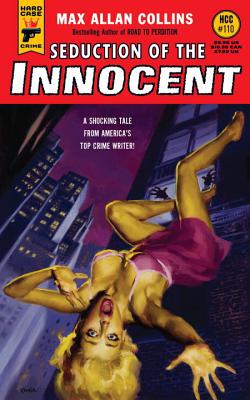 Seduction of the Innocent
Hard Case Crime, Paperback, 9780857687487, 269pp.
Publication Date: February 19, 2013
* Individual store prices may vary.
Shop Local
Enter your zip code below to find indies closest to you.
Description
It's 1954, and a rabble-rousing social critic has declared war on comic books - especially the scary, gory, bloody sort published by the bad boys of the industry, EF Comics. But on the way to a Senate hearing on whether these depraved publications should be banned, the would-be censor meets a violent end of his own - leaving his opponents in hot water.
Can Jack Starr, private eye to the funny-book industry, and his beautiful boss Maggie unravel the secret of Dr. Frederick's gruesome demise? Or will the crackdown come, falling like an executioner's axe...?
About the Author
Max Allan Collins is the New York Times best-selling author of Road to Perdition and multiple award-winning novels, screenplays, comic books, comic strips, trading cards, short stories, movie novelizations, and historical fiction. He has scripted the Dick Tracy comic strip, Batman comic books, and written tie-in novels based on the CSI, Bones, and Dark Angel TV series; collaborated with legendary mystery author Mickey Spillane; and authored numerous mystery series including Quarry, Nolan, Mallory, Eliot Ness, and the bestselling Nathan Heller historical thrillers. His additional Disaster series mystery novels include The Titanic Murders, The Hindenburg Murders, The Pearl Harbor Murders, The Lusitania Murders, and The London Blitz Murders.

Terry Beatty has inked THE BATMAN STRIKES! and BATMAN: THE BRAVE AND THE BOLD as well as several other DC Comics graphic novels.
Praise For Seduction of the Innocent…
"Collins masterfully blends fact and fiction...transcends the historical thriller." - Jeffery Deaver

"Violent and volatile and packed with sexuality...classic pulp fiction." - USA Today

"Collins' witty, hard-boiled prose would make Raymond Chandler proud." - Entertainment Weekly

"Max Allan Collins blends fact and fiction like no other writer." - Andrew Vachss

 "Collins makes it sound as though it really happened." - New York Daily News

"Few people alive today can tell a story better than Max Allan Collins. SEDUCTION OF THE INNOCENT is a great, page-turning read that is beautiful to look at and serves as another proud addition to the Hard Case Crime library." – Bookreporter

"A solid tale of crime, greed, and murder with a tasty dash of sequential art history in the mix." – Fanboy Comics

"Everything I would ever want in a detective novel." – Geek Hard

"When a book manages to keep me reading from beginning to end, I consider it a job well done, but when I sit there for hours on end reading because I can't put it down, that's when I consider a book truly good and Seduction of the Innocent falls happily in that second category." – Geekenstein

"A fast read, hedged by a bevy of hilarious characters and culminating in a delicious 'whodunit.'" – Noir Whale

"Any fan of noir, pulp fiction or comic books will appreciate Seduction of the Innocent." – Pop Cults

"Hats off to Max Allan Collins for this phenomenally entertaining piece of historical fiction, and Terry Beatty, for the classic, inspired EC style art work." – Comic Hype