A Dog's History of America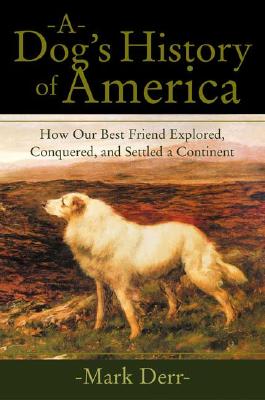 A Dog's History of America
How Our Best Friend Explored, Conquered, and Settled a Continent
North Point Press, Hardcover, 9780865476318, 400pp.
Publication Date: September 1, 2004
* Individual store prices may vary.
Shop Local
Enter your zip code below to find indies closest to you.
Description
Wherever humans have gone in the New World, dogs have been their companions, from the time people crossed the Bering Land Bridge some twenty thousand years ago.

In this remarkable history of the interaction between humans and dogs, Mark Derr looks at the ways in which we have used canines-as sled dogs and sheepdogs, hounds and Seeing Eye dogs, guard dogs, show dogs, and bomb-sniffing dogs-as he tracks changes in American culture and society. From the Spanish conquest of the Americas to the English colonial period, from the age of revolution to slavery, from World War II to the Vietnam War, Derr weaves a remarkable tapestry of heroism, betrayal, tragedy, kindness, abuse, and unique companionship. The result is an enlightening perspective on American history through the eyes of humanity's best friend.
About the Author
Mark Derr is the author of several books, most recently Dog's Best Friend: Annals of the Dog-Human Relationship. He writes regularly for The New York Times, and lives with his wife in Florida.
Praise For A Dog's History of America…
"It is difficult to conceive of a more scrupulously researched, anecdotally rich, historically provocative and wide-ranging work about dogs than Mark Derr's latest. Drawing on an impressive array of archival sources, the author of Dog's Best Friend has succeeded in cobbling together a narrative that not only is epic in scope, but chronicles in unsentimental and admirable depth the complex, highly-charged, still-evolving relationship that our nation and its people have shared with our so-called best friend. Fascinating, enlightening, disturbing, and a dog-gone good read to boot." --Bruce Olds, author of Bucking the Tiger, owner of Roisin

Praise for Dog's Best Friend:

"Derr writes about the 'culture of the dog' like no one else. He profiles some truly remarkable people-mushers, ranchers, hunters-with a special affinity for getting inside the minds of dogs." --Men's Journal

"Derr delivers much information and just plain common sense." --Jonathan Yardley, The Washington Post