Hate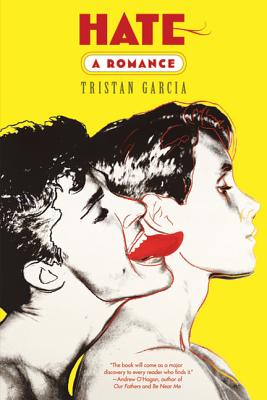 Hate
A Romance
Faber & Faber, Paperback, 9780865479111, 273pp.
Publication Date: October 26, 2010
* Individual store prices may vary.
Buy Now
or
Shop Local
Enter your zip code below to purchase from an indie close to you.
Description
In a controversial first novel that took the French literary world by storm and won the Prix de Flore, Tristan Garcia uses sex, friendships, and love affairs to show what happens to people when political ideals Marxism, gay rights, sexual liberation, nationalism come to an end. As Elizabeth Levallois, a cultural journalist, looks back on this decade and on the ravages of the AIDS epidemic in Paris, a drama unfolds one in which love turns to hate and fidelity turns to betrayal, in both affairs of the heart and politics.
With great verve and ingenuity, Garcia lays claim to an era that promised freedom as never before, and he paints an indelible, sharp, but sympathetic portrait of intellectuals lost in the age of MTV.
About the Author
Tristan Garcia was born in 1981 in Toulouse and attended the Ecole Normale Superieure in Paris, where he specialized in philosophy. He is the author of a book of philosophy, "The Image", published in 2007. "Hate: A Romance "is his first novel.



Edouard Leve was born on January 1, 1965 in Neuilly-sur-Seine. A writer, photographer, and visual artist, Leve was the author of four books of writing-"Oeuvres", "Journal", "Autoportrait", and "Suicide"-and three books of photographs. "Suicide", published in 2008, was his final book.
Praise For Hate…
"Among the first novels we read this season, the most mind-blowing is by twenty-seven-year-old Tristan Garcia: Hate: A Romance, a morality tale that grapples with the political and intellectual battles of the last two decades of French life and how those are caught up in the sex lives of the protagonists. A novel we're still reeling from, and which we've chosen to put at the very top of our honor roll."—Les Inrockuptibles

"One of the revelations of the literary season . . . An intimate, romantic, political, and cultural fresco [of the 1980s], a portrait startling in its accuracy." —Christine Rousseau, Le Monde

"The real eye-opener of the season . . . A novel that made me reassess a decade that I'd lived through with my eyes closed. It took an upstart philosopher . . . to make me understand what was going on when I was twenty years old, when the Left became the Right." —Frédéric Beigbeder, author of Windows on the World and founder of the Prix de Flore