Third Down and a War to Go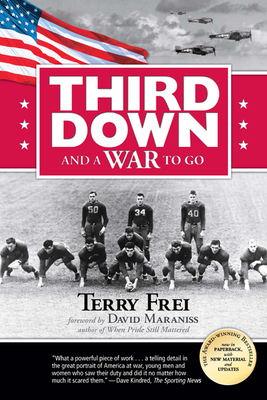 Third Down and a War to Go
Wisconsin Historical Society Press, Paperback, 9780870203848, 287pp.
Publication Date: July 16, 2007
* Individual store prices may vary.
Buy Now
or
Shop Local
Enter your zip code below to purchase from an indie close to you.
Description
On December 11, 1941, All-American football player Dave Schreiner wrote to his parents, "I'm not going to sit here snug as a bug, playing football, when others are giving their lives for their country. . . . If everyone tried to stay out of it, what a fine country we'd have!" Schreiner didn't stay out of it. Neither did his Wisconsin Badger teammates, including friend and cocaptain Mark "Had" Hoskins and standouts "Crazylegs" Hirsch and Pat Harder. After that legendary 1942 season, the Badgers scattered to serve, fight, and even die around the world.
This fully revised edition of the popular hardcover includes follow-up research and updates about many of the '42 Badgers, plus a new foreword by Pulitzer Prize-winning journalist and author David Maraniss. Readers and reviewers agree: Terry Frei's heart-wrenching story of Schreiner and his band of brothers is much more than one team's tale. It's an All-American story.
About the Author
Terry Frei writes for The Denver Post. His previous books are Horns, Hogs, and Nixon Coming, which the Dallas Morning News labeled "a superb blending of sports, history, and politics"; Third Down and a War to Go, with a foreword by David Maraniss; and '77: Denver, the Broncos, and a Coming of Age.

Born in Detroit, David Maraniss is an associate editor at "The Washington Post". Maraniss is a Pulitzer Prize winning journalist and bestselling author of "Once in a Great City: A Detroit Story"; "First in His Class: A Biography of Bill Clinton"; "Rome 1960: The Olympics that Stirred the World;" "Barack Obama: The Story"; "Clemente: The Passion and Grace of Baseball s Last Hero"; "They Marched into Sunlight: War and Peace, Vietnam and America, October 1967"; and" When Pride Still Mattered: A Life of Vince Lombardi", which was hailed by "Sports Illustrated" as maybe the best sports biography ever published. He lives in Washington, DC, and Madison, Wisconsin.
Praise For Third Down and a War to Go…
"Tirelessly researched and relentlessly touching. The true allegory of football and war, minus the cliches." (Jay Greenberg, The New York Post)
 
"What began as a sports book comes to resemble something akin to 'Band of Brothers'. . . . This is an inspiring book, full of pathos and heroism." (Dave Wood, past vice president, National Book Critics Circle)
"Terry Frei set out to learn more about his father. He wound up bringing to life a team, a cause and an era. Likewise, all that the young men of the 1942 Wisconsin Badgers set out to be was college students and football players. But circumstances called most of them to do something greater: Save the world. Impressively researched and powerfully written, Third Down and a War to Go will put you in the huddle, in the front lines and in a state of profound gratitude — not only to the Badgers and the hundreds of thousands of veterans like them, but to Terry Frei." (Neil Rubin, The Detroit News)
 
"Brings to life, in shades of black, blue and blood red, the idea that certain things are worth fighting for." (Rick Morrissey, Chicago Tribune)
 " . . . the stories of players at war poignantly remind everyone of lives sacrificed for freedom." (Midwest Living Magazine)
"A must read." (Andy Baggot, Wisconsin State Journal)
"Thoroughly researched and ardently objective. . . . In stripping away patriotic embellishment from the group's obvious sacrifices, Frei created a work sure to register with history buffs and intrigue even those sports fans not typically mindful of a team whose highlights can't be bought on DVD. . . . [The book does] supreme justice to a group all too soon gone, all too easily forgotten." (Adam Mertz, The Capital Times, Madison, Wisconsin)
"Touching." (Ron Bellamy, The Register-Guard, Eugene, Oregon)
"A book that not only makes you keep reading, but makes you care." (Dwight Chapin, San Francisco Chronicle)
"Many times you hear athletes called heroes, their deeds and accomplishments characterized as courageous. . . . After reading Third Down and a War to Go I am embarrassed to have ever been thought of as brave or courageous. . . . Enjoy this adventure in history, life, and courage and take it from a so-called 'tough guy,' keep the hanky close by." (Dan Fouts, Hall of Fame quarterback and ABC-TV sportscaster)
2005 Honorable Mention in Recreation/Sports from the Midwest Independent Publishers Association