The New Annotated H. P. Lovecraft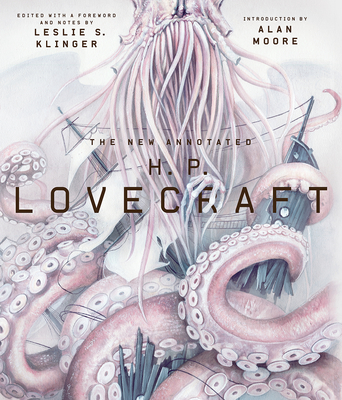 The New Annotated H. P. Lovecraft
Liveright Publishing Corporation, Hardcover, 9780871404534, 928pp.
Publication Date: October 13, 2014
* Individual store prices may vary.
Buy at Local Store
Enter your zip code below to purchase from an indie close to you.
or
Buy Here
Description
In this volume, Leslie S. Klinger reanimates Lovecraft with clarity and historical insight, charting the rise of the erstwhile pulp writer, whose rediscovery and reclamation into the literary canon can be compared only to that of Poe or Melville. Weaving together a broad base of existing scholarship with his own original insights, Klinger appends Lovecraft's uncanny oeuvre and Kafkaesque life story in a way that provides context and unlocks many of the secrets of his often cryptic body of work.
Over the course of his career, Lovecraft "the Copernicus of the horror story" (Fritz Leiber) made a marked departure from the gothic style of his predecessors that focused mostly on ghosts, ghouls, and witches, instead crafting a vast mythos in which humanity is but a blissfully unaware speck in a cosmos shared by vast and ancient alien beings. One of the progenitors of "weird fiction,"Lovecraft wrote stories suggesting that we share not just our reality but our planet, and even a common ancestry, with unspeakable, godlike creatures just one accidental revelation away from emerging from their epoch of hibernation and extinguishing both our individual sanity and entire civilization.
Following his best-selling The New Annotated Sherlock Holmes, Leslie S. Klinger collects here twenty-two of Lovecraft's best, most chilling "Arkham" tales, including "The Call of Cthulhu," At the Mountains of Madness, "The Whisperer in Darkness," "The Shadow Over Innsmouth," "The Colour Out of Space," and others. With nearly 300 illustrations, including full-color reproductions of the original artwork and covers from Weird Tales and Astounding Stories, and more than 1,000 annotations, this volume illuminates every dimension of H. P. Lovecraft and stirs the Great Old Ones in their millennia of sleep.
About the Author
Howard Phillips Lovecraft, August 1890 - March 1937, was an American author who achieved posthumous fame through his influential works ofhorror fiction. Virtually unknown and only published in pulp magazines before he died in poverty, he is now regarded as one of the most significant 20th-century authors in his genre. Lovecraft was born inProvidence, Rhode Island, where he spent most of his life.

Leslie S. Klinger is one of the world s foremost authorities on Sherlock Holmes. He is the editor of the three-volume set The New Annotated Sherlock Holmes. The first two volumes, The Complete Short Stories, won the Edgar for Best Critical/Biographical work. He has just published In the Company of Sherlock Holmes and The New Annotated H. P. Lovecraft. Klinger is a member of the Baker Street Irregulars and lives in Malibu.

Alan Moore has designed and created everything from books to businesses. He has a unique grasp on the forces that are reshaping our world and how to creatively respond to them. Working on six continents, Alan has shared his knowledge in the form of board and advisory positions at companies such as Hewlett Packard, Microsoft and The Coca Cola Company, workshops and speaking as well as teaching in institutions as wide ranging as MIT and Reading University s Typography Department, Sloan School of Management and INSEAD. He is the author of four books on creativity, marketing and business transformation including 'No Straight Lines: making sense of our nonlinear world' (2011). He still works as an artist. He tries everyday to lead a life as beautifully as he possibly can.