The Waste Land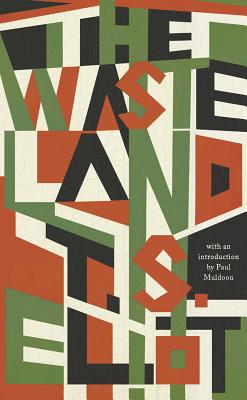 The Waste Land
Liveright Publishing Corporation, Hardcover, 9780871407177, 84pp.
Publication Date: September 2013
* Individual store prices may vary.
Shop Local
Enter your zip code below to find indies closest to you.
Description
The Waste Land is arguably the most important poem of the twentieth century. First published in the United States by Boni & Liveright in 1922, this landmark reissue of the first edition, now back with its original publisher, includes a new introduction by Paul Muldoon, showcasing the poem's searing power and strange, jarring beauty. With a modernist design that matches the original, this edition allows contemporary readers to experience the poem the way readers would have seen it for the first time.
As Muldoon writes, "It's almost impossible to think of a world in which The Waste Land did not exist. So profound has its influence been not only on twentieth-century poetry but on how we ve come to view the century as a whole, the poem itself risks being taken for granted." Famously elliptical, wildly allusive, at once transcendent and bleak, The Waste Land defined modernity after the First World War, forever transforming our understanding of ourselves, the broken world we live in, and the literature that was meant to make sense of it. In a voice that is arch, ironic, almost ebullient, and yet world-weary and tragic, T. S. Eliot mixes and remixes, drawing on a cast of ghosts to create a new literature for a new world. In the words of Edmund Wilson, "Eliot is one of our only authentic poets The Waste Land is] one triumph after another.
About the Author
T. S. Eliot (1888-1965) was one of the fathers of modernism and a defining voice in English-language poetry. He is the author of some of the best known poems in the English language, including "The Love Song of J. Alfred Prufrock," The Waste Land, "Ash Wednesday," and Four Quartets. The leading poet of the modernist avant-garde, Eliot radically reimagined the possibilities for literature in the twentieth century and beyond, and was also renowned as a playwright and as a literary and social critic. Eliot's books of criticism include The Sacred Wood, while his theatrical works include Murder in the Cathedral. He was awarded the Nobel Prize for Literature in 1948.

Paul Muldoon is the author of eleven books of poetry, including the Pulitzer Prize-winning "Moy Sand and Gravel" (FSG, 2002) and, most recently, "Maggot" (FSG, 2010). He is the Howard G. B. Clark University Professor at Princeton.
Saturday, Sep 28, 2013
This year marks the 125th birthday of Nobel Prize-winning poet T.S. Eliot. To celebrate, a re-issue of the first edition of his seminal poem has just been published, with an introduction by New Yorker poetry editor Paul Muldoon. NPR's Scott Simon speaks with Muldoon about the poem's lasting influence. More at NPR.org