Memories of Our Future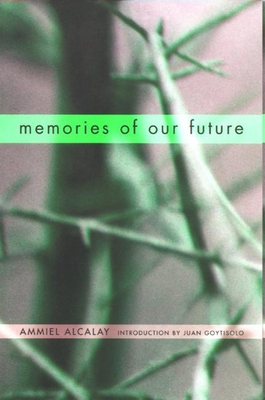 Memories of Our Future
Selected Essays 1982-1999
City Lights Books, Paperback, 9780872863606, 292pp.
Publication Date: January 1, 2001
* Individual store prices may vary.
Buy at Local Store
Enter your zip code below to purchase from an indie close to you.
or
Not Currently Available for Direct Purchase
Description
Voted one of the Top 25 Books of 1999 by the Village Voice.
"An outstanding anthology of essays surveying the complexities of Mediterranean cultures; the diverse, changing space of the Balkans, Middle East, and North Africa—areas of diasporas, dislocations, and genocidal exterminations provoked by nationalism and religious fanaticism. Of special interest are his observations and analysis of the Israeli/Palestinian confrontation, Arab/Jewish poetics, and Jewish identity in America."—Midwest Book Review
Table of Contents
Local Politics: The Background as Foreword Ammiel Alcalay
Acknowledgments
Five Hundred Years After: What Was Left Unsaid about Sepharad
Juan Goytisolo
PRELUDES: AN OPENING
weighing the losses, like stones in your hand'
Atonement
OF BOOKS AND CITIES/ THE JOURNEY
My Mediterranean
The Quill's Embroidery: Untangling a Tradition
The Quill's Embroidery: Poetry, Tradition, and the Postmodern'
Paris / New York / Jerusalem: The Unscheduled Flight of Edmond Jabes and Jacques Derrida
Perplexity Index
Desert Solitaire: On Edmond Jabes
For Edouard Roditi
Behind the Scenes: Before After Jews and Arabs
FORBIDDEN TERRITORIES, PROMISED LANDS
On Arabesques
After the Last Sky
Who's Afraid of Mahmoud Darwish?
Israel and the Levant: Wounded Kinship's Last Resort'
Forbidden Territory, Promised Lands
In True Colors
Culture without a Country
Too Much Past
The State of the Gulf: Abdelrahman Munif and Hanan al-Shaykh
Our Memory Has No Future: On Etel Adnan
The war was ending, the diasporas beginning'
DISPATCHES
A Stitch in Time
Court Report: Prolonging a Farce
The Trial: A Real Farce
Ay, de mi aljama': Palestinians and Israelis Meet, in Spain!
Israel / Palestine 101: A Letter to Robert Creeley
Quality Control
Ushering in the New Order: Repercussions from the Gulf War Reflections at the End of 1992
Why Israel?
THE RETURN: VARIATIONS ON A THEME
Understanding Revolution
Exploding Identities: Notes on Ethnicity and Literary History
Speaking with Forked Tongues, or Parables of Eq
About the Author
Ammiel Alcalay grew up in Boston and, as a child, spent time in Gloucester where family friends included Charles Olson and Vincent Ferrini. As a teenager, through the Grolier and Temple Bar Bookshops in Cambridge, he befriended many poets, including John Wieners. Poet, translator, critic, scholar and activist, he teaches at Queens College and the CUNY Graduate Center. His books include SCRAPMETAL (Factory School, 2007); FROM THE WARRING FACTIONS (Beyond Baroque Press, 2002), a book-length poem dedicated to the Bosnian town of Srebrenica; MEMORIES OF OUR FUTURE: SELECTED ESSAYS (City Lights Publishers, 1999); After Jews and Arabs: Remaking Levantine Culture (University of Minnesota Press, 1993); and THE CAIRO NOTEBOOKS (Singing Horse Press, 1993). His translations include SARAJEVO BLUES (City Lights Publishers, 1998) and NINE ALEXANDRIAS (City Lights Publishers, 2003) by the Bosnian poet Semezdin Mehmedinovic, KEYS TO THE GARDEN: NEW ISRAELI WRITING (City Lights Publishers, 11996), and a co-translation (with Oz Shelach), of OUTCAST by Shimon Ballas (City Lights Publishers, 2007). A new book of essays, A Little History, and a collective translation of the Syrian poet Faraj Bayraqdar are forthcoming from Beyond Baroque Press. ISLANDERS, a novel, came out in 2010 (City Lights Publishers). His new selection of poetry, NEITHER WIT NOR GOLD, was published by Ugly Duckling Presse in 2011. Along with Anne Waldman and others, he was one of the initiators of the Poetry Is News Coalition, and organized, with Mike Kelleher and Fred Dewey, the OlsonNow project. Most recently, through the PhD Program in English and the Center for the Humanities at the CUNY Graduate Center, he initiated Lost & Found: The CUNY Poetics Document Initiative, a series of student and guest edited archival texts emerging from the New American Poetry.

Ne a Barcelone, en 1931, intellectuel engage, oppose au franquisme, Juan Goytisolo s'est tres tot exile a Paris. Aujourd'hui installe a Marrakech, il est devenu un critique implacable de la civilisation occidentale. Auteur d'une quinzaine de romans et de nombreux essais, il a recu, en 1985, le prix Europalia pour l'ensemble de son uvre, en 2002 le prix Octavio Paz, en 2004 le prix Juan Rulfo de litterature latino-americaine et caribeenne, et en novembre 2008 le prestigieux Prix national des Lettres espagnoles.Photo: Circulo de Lectores.