Portions from a Wine-Stained Notebook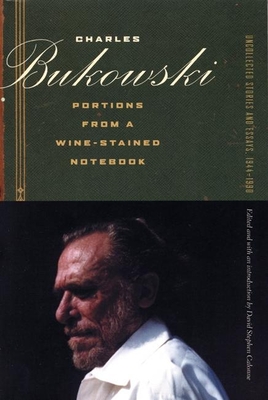 Portions from a Wine-Stained Notebook
Uncollected Stories and Essays, 1944-1990
City Lights Books, Paperback, 9780872864924, 255pp.
Publication Date: September 1, 2008
* Individual store prices may vary.
Buy at Local Store
Enter your zip code below to purchase from an indie close to you.
or
Buy Here
Description
Charles Bukowski (1920-1994), one of the most outrageous and controversial figures of twentieth-century American literature, was so prolific that many important pieces were never collected during his lifetime. "Portions from a Wine-Stained Notebook "is a substantial selection of these wide-ranging works, most of which have been unavailable since their original appearance in underground newspapers, literary journals, and even porn magazines. Among the highlights are Bukowski's first published short story, "Aftermath of a Lengthy Rejection Slip"; his last short story, "The Other"; his first and last essays; and the first installment of his famous "Notes of a Dirty Old Man" column.
The book contains meditations on his familiar themes (drinking, horse-racing, etc.) as well as singular discussions of such figures as Artaud, Pound, and the Rolling Stones. Other significant works include the experimental title piece; a fictionalized account of meeting his hero, John Fante ("I Meet the Master"); an unflinching review of Hemingway ("An Old Drunk Who Ran Out of Luck"); the intense, autobiographical "Dirty Old Man Confesses"; and several discussions of his aesthetics ("A Rambling Essay on Poetics and the Bleeding Life Written While Drinking a Six-Pack Tall]," "In Defense of a Certain Type of Poetry, a Certain Type of Life, a Certain Type of Blood-Filled Creature Who Will Someday Die," and "Upon the Mathematics of the Breath and the Way"). What is ultimately revealed is an unexpectedly learned mind behind his seemingly off hand productions.
"Portions from a Wine-Stained Notebook "is essential reading for Bukowski fans, as well as a good introduction for new readers of this innovative, unconventional writer.
About the Author
Charles Bukowski was born in Andernach, Germany in 1920 and brought to Los Angeles at age three. Using the city as a backdrop for his work, Bukowski wrote prolifically, publishing over fifty volumes of poetry and prose. He died in San Pedro, California on March 9, 1994. His books are widely translated and posthumous volumes continue to appear. David Calonne is the editor of a previous book of uncollected Bukowski, Portions from a Wine-Stained Notebook, as well as a volume of interviews, Charles Bukowski: Sunshine Here I Am. He presently teaches at East Michigan University.
Praise For Portions from a Wine-Stained Notebook…
"Bukowski's strength is in the sheer bulk of his contents, the virulent anecdotal sprawl, the melodic spleen without the fetor of the parlor or the classroom, as if he were writing while straddling a cement wall or sitting on a bar stool, the seat of which is made of thorns."-Jim Harrison, NY Times, 2007

"It features a wealth of previously uncollected Bukowski material, including his first published short stories, book reviews, essays on literature, U.S. politics, his writing craft, biographical accounts, entries from his famous NOTES of a DIRTY OLD MAN newspaper column, tips on how to win at the racetrack and even a review of a Rolling Stones concert. David Stephen Calonne provides a lucid and highly learned introduction to the book. . . . No Bukophile should miss out on this book."--Bold Monkey