Colorblind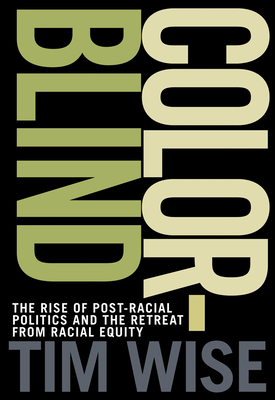 Colorblind
The Rise of Post-Racial Politics and the Retreat from Racial Equity
City Lights Books, Paperback, 9780872865082, 213pp.
Publication Date: June 2010
* Individual store prices may vary.
Buy Now
or
Shop Local
Enter your zip code below to purchase from an indie close to you.
Description
"It's a great book. I highly, highly, highly recommend it." --Tavis Smiley
In this powerful follow-up to "Between Barack and a Hard Place," Tim Wise argues against colorblindness and "for" a deeper color-consciousness in both public and private practice. We can only begin to move toward authentic social and economic equity through what Wise calls "illuminated individualism"acknowledging the diverse identities that have shaped our perceptions, and the role that race continues to play in the maintenance of disparities between whites and people of color in the United States today. This is the first book to discuss the pitfalls of colorblindness in the Obama era.

About the Author
Wise was the 2008 Oliver L. Brown Distinguished Visiting Scholar for Diversity Issues at Washburn University. Wise tours constantly and delivers dozens of lectures each year. He is regularly sought for interviews and has been on 20/20, Paula Zahn, NOW with Bill Moyers, MSNBC, and Donahue. His previous books include Between Barack and a Hard Place and White Like Me.
Praise For Colorblind…
"Tim Wise provocatively takes up the bitterness of the contemporary debate over racially charged issues aiming at racial justice and the general nature and implications of liberalism in a nation which faces the troublesome problem of discrimination."--Tribune India

"With Colorblind, Tim Wise offers a gutsy call to arms. Rather than play nice and reiterate the fiction of black racial transcendence, Wise takes the gloves off: He insists white Americans themselves must be at the forefront of the policy shifts necessary to correct our nation's racial imbalances in crime, health, wealth, education and more. A piercing, passionate and illuminating critique of the post-racial moment." --Bakari Kitwana, author of The Hip-Hop Generation: Young Blacks and the Crisis in African American Culture

"Tim Wise's Colorblind brilliantly challenges the idea that the election of Obama has ushered in a post-racial era. In clear, engaging, and accessible prose, Wise explains that ignoring problems does not make them go away, that race-bound problems require race-conscious remedies. Perhaps most important, Colorblind proposes practical solutions to our problems and promotes new ways of thinking that encourage us to both recognize differences and to transcend them." --George Lipsitz, author of The Possessive Investment in Whiteness

"At every turn and every corner, in every crevice and every crack, Tim Wise debunks the mythology of a Color Blind' society with the vigor of a statistician and the passion befitting one of the preeminent anti-racist theorists working today. You will literally lose your breath trying to keep up with the ways that Wise lays waste to the idea that we've achieved anything close to a 'post-race' society. If you don't know who Tim Wise is, you will after this book." --Mark Anthony Neal, author of New Black Man and Professor of African & African-American Studies at Duke University

"A phenomenal book, a great read, you definitely want to check out." --Roland Martin, The Tom Joyner Show & CNN

"I finally finished Tim Wise's 'Colorblind' and found it right-on, straight-ahead piece of work. This guy hits all the targets, it's really quite remarkable . . . That's two of his that I've read [the first being 'Between Barack'] and they are both works of crystal truth . . ." --Mumia Abu-Jamal

"America needs not to 'move beyond' race but to adopt innovative public policies that directly address it. Wise gives specific ideas of what those policies might be." --World Wide Work

"Wise's powerful and thought-provoking book is aimed at opening the eyes of Americans, by showing them that this country, in 2010, is not a colorblind society." --The Empowerment Initiative Online Newsletter

"Tim Wise dismantles the myth that full equality has been won and the playing field is level with hard facts, citing studies that have shown the persistence of institutional racism and white racial preference in all areas, including employment, education and health care." --Kel Munger --Sacramento News and Review

"The book is consistently interesting and, in many ways, unsettling as it challenges the settled opinions on race matters. . . . In a post-racial 7society, race-bound problems require race-conscious remedies.' A preeminent anti-racist, Tim Wise lays out brilliantly his views on a society that is yet to move beyond discrimination to a post-racial liberalism." --Tribune India

"The author of 'White Like Me' returns with the timely and provocative 'Colorblind,' examining the ongoing racial disparities in all aspects of American life in the age of Obama. Wise convincingly argues that by turning a colorblind eye, we not only fail to achieve equality but in fact worsen racial injustice." --Shelf Unbound


"A new book by Tim Wise, 'Colorblind: The Rise of Post-racial Politics and the Retreat from Racial Equity', provides an excellent companion piece to Alexander's 'New Jim Crow'. Wise argues that Barack Obama's appeal to post-racial universalism has been an unmitigated disaster. By refusing to address the tidal wave of racist rhetoric currently engulfing the Republic, Obama has multiplied its power. . . . I urge you to run out and buy a copy of this important book..." --Alan Bean, Friends of Justice

"In Colorblind, Wise explores the implications of the Obama victory on the country's racial discourse. His disturbing, but quite convincing, conclusion is that the Obama administration's embrace of what Wise calls 'post-racial liberalism'a combination of race-neutral rhetoric and public policy that avoid race-conscious remediesmakes the challenging of ongoing racism more difficult." -- Political Media Review