Los Angeles Stories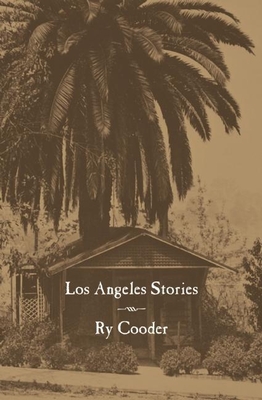 Los Angeles Stories
City Lights Books, Paperback, 9780872865198, 232pp.
Publication Date: October 4, 2011
* Individual store prices may vary.
Buy at Local Store
Enter your zip code below to purchase from an indie close to you.
or
Buy Here
Description
World-famous musician Ry Cooder publishes his first collection of stories, with a nod to Raymond Chandler and Nathanael West.
About the Author
Ry Cooder, an LA native, is a world-famous guitarist, singer, composer, producer and writer. He is known for his slide guitar work, his interest in roots music, and, more recently, for his collaborations with traditional musicians from many countries including The Buena Vista Social Club. Cooder has composed soundtracks for more than 20 films including Paris, Texas. Two recent albums were accompanied by books of stories written by Cooder to accompany the music.
Praise For Los Angeles Stories…
"In Los Angeles Stories, his first published collection of stories, Ry Cooder pays homage to the jazz, the blues and the Latin beat of a bygone era. He also honors a cast of boisterous musicians, some murdered, others spared to tell their gritty tales of life and death. A few famous musicians - John Lee Hooker and Charlie Parker among them - make cameo appearances in these pages, but most of the guitar players, drummers and lounge singers are as unknown as the repossession men, waitresses and mechanics they entertain in forgotten bars and derelict nightclubs. Cooder fans will enjoy the upbeat mix of music and murder. Aficionados of noir fiction will love the characters, all of whom have something to hide and all of whom are engaged in illegal activity." Jonah Raskin, San Francisco Chronicle

"The stories of Ry Cooder are a lot like his music: stately, precise, well constructed; they grab you by the throat, quietly, and never let go. . . . Cooder is a passionate historian of Los Angeles, curating its small joys and predilections, its cultural pratfalls and senseless tragedies. . . . Los Angeles Stories is an unusual book, old-fashioned but not out of fashion. Its most beautiful quality is the genuine pathos, conveyed with tact and skill, for a city that has vanished, that has always been vanishing."--Andrew J. Khaled Madigan, The Iowa Review

"Cooder's Los Angeles Stories are noir-infused, glamour-free portraits of working class loners, drifters, bums, musicians (both real and fictional), and numerous other fringe types. Each speaks with his or her own individuated, idiom-riddled (but cliché-free) patois." Casey Burchby, LA Weekly

""There is a feeling in the stories, as in much of his music, that something is being documented; that voices, and personal histories, are being preserved not for posterity, but against annihilation by some overriding and corrupted power." C.P. Heiser, LA Review of Books

"While some of the stories focus on those who end up in LA, Cooder's focus in this book is mainly about those who have called LA home for most of their lives. The way Cooder describes the neighborhoods in LA -- the homes and the working class -- really paints a picture that doesn't just give you an idea of what it was like; rather, he brings these images to life, especially if you live in or visit LA today." --Verbicide Magazine

". . . Ryland Peter Cooder ventures into new territory with his first collection of linked shortly stories, entitled (not surprisingly) Los Angeles Stories (City Lights) . . . Eight stories are set in post World War II Los Angeles intermingling the kinds of characters and narratives that Cooder has put to good use in his songs blue collar workers, small time criminals and all kinds of fauna to be found in the barely visible underclass." --Robert Birnbaum, "Our Man in Boston"