The Black History of the White House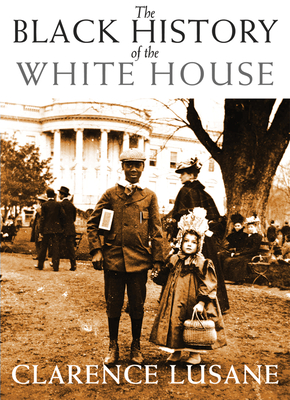 The Black History of the White House
City Lights Books, Paperback, 9780872865327, 575pp.
Publication Date: January 1, 2011
* Individual store prices may vary.
Buy Now
or
Shop Local
Enter your zip code below to purchase from an indie close to you.
Description
Clarence Lusane is one of America's most thoughtful and critical thinkers on issues of race, class and power. Manning Marable
"Barack Obama may be the first black president in the White House, but he's far from the first black person to work in it. In this fascinating history of all the enslaved people, workers and entertainers who spent time in the president's official residence over the years, Clarence Lusane restores the White House to its true colors."Barbara Ehrenreich
"Carefully documents the travails of a polity in which African-Americans were so essential and prevalent, but that struggled endlessly to maintain, then dismantle, the institution of slavery. A lively, opinionated survey, telling a story that the textbooks too often overlook." "Kirkus Reviews"
"Those who think they know their presidents may be in for surprises in Clarence Lusane's fascinating social history." "USA Today"
"Lusane is an elegant, impassioned writer, and the book which is full of stories we d never encountered in American History 101 is totally engrossing. "The Observer"'s "Very Short List""
"The Black History of the White House" presents the untold history, racial politics, and shifting significance of the White House as experienced by African Americans, from the generations of enslaved people who helped to build it or were forced to work there to its first black First Family, the Obamas.
Clarence Lusane juxtaposes significant events in White House history with the ongoing struggle for democratic, civil, and human rights by black Americans and demonstrates that only during crises have presidents used their authority to advance racial justice. He describes how in 1901 the building was officially named the White House amidst a furious backlash against President Roosevelt for inviting Booker T. Washington to dinner, and how that same year that saw the consolidation of white power with the departure of the last black Congressmember elected after the Civil War. Lusane explores how, from its construction in 1792 to its becoming the home of the first black president, the White House has been a prism through which to view the progress and struggles of black Americans seeking full citizenship and justice.
Dr. Clarence Lusane has published in "The Washington Post," "The Miami Herald," "The Baltimore Sun," "Oakland Tribune," "Black Scholar," and "Race and Class." He often appears on PBS, BET, C-SPAN, and other national media where he has discussed international relations, global black politics, economic globalization and new technologies, cultural issues, and multilateral narcotics policy. The author of several books and former editor of the journal "Black Political Agenda," he has edited newsletters for a number of national non-profit organizations.

About the Author
Dr. Lusane is a columnist for the Black Voices syndicated news network. He has published in Washington Post, Miami Herald, Baltimore Sun, Oakland Tribune, Black Scholar, Race and Class, and many more. He often appears on PBS, BET, C-SPAN and other national media. Author of several books and former editor of Black Political Agenda, he teaches at Howard University.
Praise For The Black History of the White House…
"Lusane's scholarship and passion make this a compelling book, and one which all students of US foreign policy and the politics of Black America should consider an invaluable text."-Bill Fletcher "Lusane has created a groundbreaking analysis of the intersection of racial politics and American foreign policy."-Institute for Policy Studies "This thoroughly researched analysis of the twisted relationship between the U.S. racial politics and U.S. foreign policy is a must-read for both academics and activists."-Howard Winant


"The historical patterns elucidated within Lusane's work will have a profound impact on the perceptions of social work students (BSW and MSW). Concepts of race relationships will be altered. In addition, I found that the biographical sketches are reminiscent of Kennedy's Profiles in Courage. . . . The book will be a great asset to the intellectual and emotional development of social work students."--Journal of Social Work Values & Ethics


"Dr. Clarence Lusane, program director for Comparative and Regional Studies at American University, painted an interesting link between African Americans and the White House dating all the way back to its construction. Throughout the course of his research, Dr. Lusane found that slave labor was used in the construction of the White House and other buildings in Washington, D.C.
His book, The Black History of the White House, will certainly be a lesson to us all." -- Amber Gray, The Bulletin, Vol. 23, No. 3 August 2011

"The Obamas were the first African American first family, but not the first residents. This thoroughly researched and gripping book shares the untold stories of some of the people who were enslaved by U.S. presidents, including stories of resistance and escape. Lusane describes the myriad ways that the White House and the lives of African Americans have been intertwined throughout U.S. history. This is the only book to document this essential story in our country's history."--Rethinking Schools

"Clarence Lusane's Black History of the White House came out late last year and flew under the radar at most of the major book reviews. But Lusane is an elegant, impassioned writer, and the bookwhich is full of stories we'd never encountered in American History 101is totally engrossing.--The Observer's "Very Short List"


"Lusane's effort is much more than a catchy title or revisionist tome: it's an eye-opening tribute and a provocative reminder of the many narratives that have gone untold."--Publishers Weekly

"The author concludes from his research that there is little doubt the first African American in the White House was a slave. In fact, 25 percent of our presidents were slaveholders. And between the time of slavery and now with our nation's first black president there is a long and storied history of blacks in the White House, from servants to lobbyists to Secret Service agents, reporters, activists, officials and more."Chicago Sun Times


"In illuminating the central role Blacks played in this country's history, Lusane charts the course of race relations in the Untied States."--The Philadelphia Tribune

"Those who think they know their presidents may be in for surprises in Clarence Lusane's fascinating social history . . ."--USA Today


"In eloquent language, Lusane shows how the African American experience helped shape a series of presidential administrations and governmental policies." --Sacramento Bee

"The White House was built with slave labor and at least six US presidents owned slaves during their time in office. With these facts, Clarence Lusane, a political science professor at American University, opens 'The Black History of the White House'(City Lights), a fascinating story of race relations that plays out both on the domestic front and the international stage. As Lusane writes, 'The Lincoln White House resolved the issue of slavery, but not that of racism.' Along with the political calculations surrounding who gets invited to the White House are matters of musical tastes and opinionated first ladies, ingredients that make for good storytelling."--Boston Globe


"Despite the racial progress represented by the election of the first black president of the U.S., the nation's capital has a very complicated and often unflattering racial history. Lusane traces the racial history of the White House from George Washington to Barack Obama."--Booklist


"Slaves have toiled in the White House; 25 percent of our Presidents were slaveholders. Lusane reminds readers of the place of the President's house, from its very construction onward, in African American history, a tale all-too rarely told."--Library Journal


" . . . carefully documents the travails of a polity in which African-Americans were so essential and prevalent, but that struggled endlessly to maintain, then dismantle, the institution of slavery. . . . A lively, opinionated survey, telling a story that the textbooks too often overlook."--Kirkus Reviews
Thursday, Feb 3, 2011
In The Black History of the White House, Clarence Lusane traces the country's race relations by telling the stories of the African-American men and women who built, worked at and visited the presidential home. More at NPR.org