The Spirit of the Place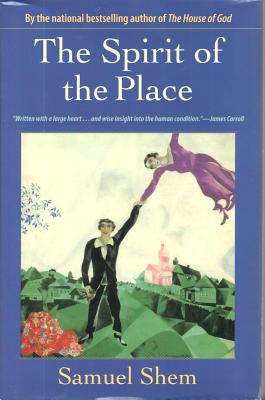 The Spirit of the Place
Kent State University Press, Hardcover, 9780873389426, 334pp.
Publication Date: June 1, 2008
* Individual store prices may vary.
Not Currently Available for Direct Purchase
or
Shop Local
Enter your zip code below to purchase from an indie close to you.
Description
Samuel Shem's classic novel about medical internship, The House of God, is required reading in medical schools throughout the world and is celebrated for its authentic description of medical training and practice, for its Rabelaisian comedy, and for its humanism and vision. His new novel, and most ambitious work yet, The Spirit of the Place, tells the story of an expatriate doctor called home to Columbia, New York, in the early 1980s to face his own history and that of the place. It is a novel of love and death, mothers and sons, ghosts and bullies, doctors and patients, illness and healing. Settled into a passionate relationship with an Italian yoga instructor and happily working in a European spa, Dr. Orville Rose's newfound peace is shattered by a telegram informing him of his mother's death. On his return to Columbia, a Hudson River town of quirky people and "plagued by breakage," he learns that his mother has willed him a large sum of money, her 1981 Chrysler, and her Victorian house in the center of town. But there's a catch: he must live in her house continuously for a year and thirteen days. As he struggles with his decision-whether to stay and meet the terms of the will or return to his love and life in Italy-Orville reconnects with Bill Starbuck, the town doctor who mentored a young Orville and who practices a long-ago kind of medicine that treats the working poor, people neglected and forgotten by the medical and insurance industries. Now in his seventies, and in need of help with the practice, Bill convinces Orville to stay. During the course of his year and thirteen days, Orville reacquaints himself with Columbia and Columbians. He reunites with his sister and niece and comes to terms with old rivals and bitter memories. And he doctors a community in desperate need of care. He also meets Miranda Braak, a remarkable young single mother who aspires to be the town historian. Her knowledge of and reverence for the past ch
About the Author
Samuel Shem, MD, PhD (pen name of Stephen Bergman), is the author of several books of fiction, including the bestseller The House of God. He is a doctor, novelist, playwright, and activist. A Rhodes Scholar, he was on the faculty of Harvard Medical School for three decades and founded the Bill W. and Dr. Bob Project in the Division on Addictions at Harvard Medical School.