Original Local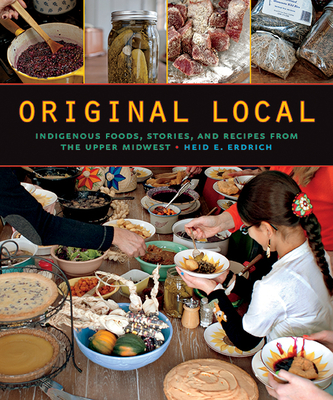 Original Local
Indigenous Foods, Stories, and Recipes from the Upper Midwest
Minnesota Historical Society Press, Paperback, 9780873518949, 224pp.
Publication Date: November 2013
* Individual store prices may vary.
Shop Local
Enter your zip code below to find indies closest to you.
Description
Local foods have garnered much attention in recent years, but the concept is hardly new: indigenous peoples have always made the most of nature's gifts. Their menus were truly the original local, celebrated here in sixty home-tested recipes paired with profiles of tribal activists, food researchers, families, and chefs.
A chapter on wild rice makes clear the crucial role manoomin plays in cultural and economic survival. A look at freshwater fish is concerned with shifts in climate and threats to water purity as it reveals the deep relationship between Ojibwe people and indigenous fish species such as Ginoozhii, the Muskie, Ogaa, the Walleye, and Adikamig, Whitefish. Health concerns have encouraged Ojibwe, Dakota, and Lakota cooks to return to, and revise, recipes for bison, venison, and wild game. Sections on vegetables and beans, herbs and tea, and maple and berries offer insight from a broad representation of regional tribes, including Ho-Chunk, Menominee, Potawatomi, and Mandan gardeners and harvesters.
The innovative recipes collected here from Ramp Kimchi to Three Sisters Salsa, from Manoomin Lasagna to Venison Mole Chili will inspire home cooks not only to make better use of the foods all around them but also to honor the storied heritage they represent.
Heid E. Erdrich, author of five books of poetry and coeditor of "Sister Nations: Native American Women Writers on Community," teaches writing, performs her work broadly, and gives lectures on American Indian art, language, and literature.
About the Author
Heid E. Erdrich writes poetry, nonfiction, and drama. She is the author of three books: Fishing for Myth, New Rivers Press; The Mother's Tongue, and National Monuments. She is also the coeditor of Sister Nations: Native American Women on Community published by the Minnesota Historical Society Press. Cell Traffic: New and Selected Poems is forthcoming in 2012. Her play Curiosities was produced by Pangea World Theater in 2010. Erdrich has been recipient of two Minnesota State Arts Board fellowships, awards from the Loft Literary Center, and the Wordcraft Circle of Native Writers. She has four times been nominated for the Minnesota Book Award, which she won in 2009. In 2008 Erdrich cofounded a nonprofit clearinghouse for indigenous language publications and Native American literature called the Birchbark House Fund. Erdrich serves as publisher and editor for Wiigwaas Press, which has been supported by the Birchbark House Fund. An enrolled member of the Turtle Mountain Band of Chippewa (a tribe of Ojibwa and Metis peoples), Erdrich grew up in Wahpeton, North Dakota. She earned degrees from Dartmouth College and the Johns Hopkins University Writing Seminars.
Thursday, Nov 21, 2013
Author and poet Heid Erdrich writes about the food-ways of Native Americans in the Upper Midwest in the new book, Original Local. Erdrich tells guest host Celeste Headlee that "eat Local" is more than just the latest foodie trend. She explains that the practice dates back to America's earliest residents � and we're not talking about the Pilgrims. More at NPR.org