Listening for the Crack of Dawn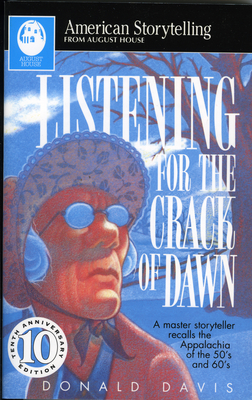 Listening for the Crack of Dawn
August House Publishers, Paperback, 9780874836059, 220pp.
Publication Date: December 2005
* Individual store prices may vary.
Shop Local
Enter your zip code below to find indies closest to you.
Description
After ten years as a cult favorite, the award-winning stories of Donald Davis -- first collected in book form a decade ago -- are reason for celebration with every new reader
Audiences at storytelling festivals worldwide are passionate about Donald Davis and his deceptively soft-edged Appalachian stories. Developed in oral performance, Davis' stories resonate in the experiences of his listeners and readers.
The fourteen stories in this, his signature title, are so convincingly private as to be universal. The laughter, silent tears, and thunderous applause these stories elicit in live performance -- and the many repeat-buyers who give the book to friend after friend -- prompted us to commemorate them in this anniversary edition.
About the Author
Donald Davis tells original stories of his Appalachian upbringing to audiences of more than 150,000 annually as he tours from coast-to-coast headlming storytelling festivals and performing at conventions, in schools and libraries, and for business audiences. This spring he will keynote the Kansas Library Tri-Conference (March 30-31) and headline the Texas Library Association storytelling concert (April 5-7). He has performed in virtually every state and overseas from Scotland to Indonesia. His award-winning books and recordings are so numerous they've earned him a special section of the August House online catalog at www.augusthouse.com.