Listening for the Crack of Dawn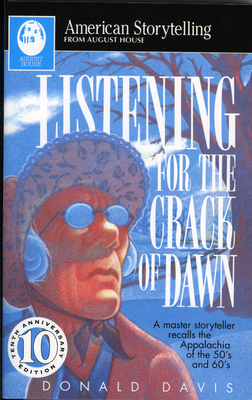 Listening for the Crack of Dawn
August House Publishers, Paperback, 9780874836059, 220pp.
Publication Date: December 15, 2005
* Individual store prices may vary.
Buy at Local Store
Enter your zip code below to purchase from an indie close to you.
or
Buy Here
Description
After ten years as a cult favorite, the award-winning stories of Donald Davis -- first collected in book form a decade ago -- are reason for celebration with every new reader
Audiences at storytelling festivals worldwide are passionate about Donald Davis and his deceptively soft-edged Appalachian stories. Developed in oral performance, Davis' stories resonate in the experiences of his listeners and readers.
The fourteen stories in this, his signature title, are so convincingly private as to be universal. The laughter, silent tears, and thunderous applause these stories elicit in live performance -- and the many repeat-buyers who give the book to friend after friend -- prompted us to commemorate them in this anniversary edition.

About the Author
Donald Davis Bio: Donald Davis was raised in the Great Smoky Mountains of North Carolina. He didn't realize it at the time, but he grew up in a family of gifted storytellers who passed their talent along to Donald. His legendary Uncle Frank was a front-porch storyteller of the first order and the source of many of Donald s tales. Young Davis was a capable student. He went to college and then to divinity school. For twenty years he served the Western North Carolina Conference of the United Methodist Church. Then came a day when he found that he would rather tell Uncle Frank's tall tales than give another sermon. He would rather recall two old-maid sisters who abused the party line than marry one more couple. Fortunately, Davis had no trouble finding audiences: all of his former congregations lined up to book him to perform as a storyteller. He now tours the USA ten months a year, making about 300 storytelling presentations annually. He can be found in schools, at libraries, in front of conventions, and as a headliner at storytelling festivals. Davis has appeared on ABC News Nightline, and he has been a guest on National Public Radio and CNN. His books and spoken word recordings have received critical acclaim and won many awards. Davis has written ten books and recorded twenty audio recordings with August House. When Donald isn t crisscrossing the country performing his stories, he comes home to Ocracoke Island, North Carolina where he lives with his wife, Merle."