Mom, I Hate My Life!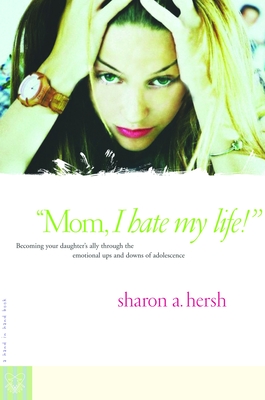 Mom, I Hate My Life!
Shaw Books, Paperback, 9780877880233, 240pp.
Publication Date: April 20, 2004
* Individual store prices may vary.
Buy at Local Store
Enter your zip code below to purchase from an indie close to you.
or
Buy Here
Description
"I don't know why my daughter is so angry. She yells at me all the time!"

"Our daughter comes home, goes straight to her room, turns on her CD player and won't talk to anyone– especially me."

"The emotional ups and downs of our daughter's life make us all feel like we're on a roller coaster."

Navigating an adolescent daughter's emotional life is one of a mom's toughest challenges. A teenage girl's volatile emotions can seemingly toss her–and you–like a hurricane. When a scary external world and a turbulent internal world collide, the result is sometimes overwhelming and confusing. What can you do to protect your relationship with your daughter, guide her through this chaotic time, and assure her you are truly on her side?

Your Adolescent Daughter' s Struggles Can Help Her–and You–to Grow and Thrive.

The good news is you are equipped with the most powerful resource available for maintaining and developing connection with your daughter: a mother's heart. Learn how you can use hand-in-hand mothering skills to become the ally your daughter needs–parenting out of love, not fear–and find out how you both can experience dramatic, life-changing growth in the process.
About the Author
Sharon A. Hersh M.A., LPC is a licensed professional counselor, speaker, and author. She has written several books, including the popular Bravehearts: Unlocking the Courage to Love with Abandon. She has written four books in the Hand-in-Hand Parenting series including, Mom, I Feel Fat!, Mom, I Hate my Life!, Mom, Everyone Else Does!, and Mom, Sex is NO Big Deal!. Her most recent book is The Last Addiction: Why Self-Help is Not Enough. She is an adjunct professor in graduate counseling courses, including Sex and Sexuality and Addiction at Colorado Christian University, Mars Hill Graduate School, and Reformed Theological Seminary. She is a sought-after speaker at conferences and retreats. Hersh lives in Lone Tree, Colorado.


Praise For Mom, I Hate My Life!…
"Peppered with examples from her counseling practice and her own experiences as a mother to a teenage girl, Hersh's book urges sensible compassion as mothers and daughters become companions on a mutual journey. She gives concrete and specific examples of how mothers can appropriately respond to their daughters' pain and help them understand their feelings. Throughout, Hersh also offers a central Christian message that God's love should be the foundation of girls' and mothers' identities."
–Publishers Weekly

"No one is more precious and disturbing to us than our children. There is no subject we are more desperate and fearful to enter than parenting. And there is no better book than 'Mom, I Hate My Life!' to honestly and hopefully guide you to hope. We all know our children face realities we could never have imagined and we rightfully need a wise, kind, and generous guide. Sharon Hersh lives and writes with brilliance, wisdom, and winsome wit. This book will allow you to encounter the rapids of your daughter's adolescence with greater confidence and joy."
–Dan Allender, author of How Children Raise Parents

"The two greatest complaints I hear from teens about their parents are these: 'They don't listen and they don't understand.' Sadly, those complaints are usually warranted. Sharon Hersh has once again done moms and daughters a great favor by providing a depth of understanding that can close the cultural/generational gap. No doubt, our girls are in crisis.
'Mom, I Hate My Life!' is a compelling cry that can help undo the crisis by challenging and equipping moms to meet their daughters' deepest needs in the best way possible. But this isn't just a book for moms. Dads, youth workers, and anyone else working with young girls will have their eyes opened to the painful realities of growing up female in today's world."
–Walt Mueller, founder and president of the Center for Parent/Youth Understanding and author of Understanding Today's Youth Culture

"In an age where teens themselves struggle to put words to their own kaleidoscope of confusing emotions, this is a wonderful book for teen girls, parents, and counselors alike. I highly recommend it–it can save lives."
–Christian Hill, parent and counselor, Alpine Connection Counseling

"Want to rebuild, restore, and refresh your relationship with your daughter? Countless moms and daughters will be blessed by this carefully crafted book. Sharon Hersh speaks hope into the mom-daughter relationship. You can have a trusting, rich relationship with your daughter–this book will show you how!"
–Gregory L. Jantz, Ph.D., author of Moving Beyond Depression and Hope, Help, and Healing for Eating Disorders