The Creative Call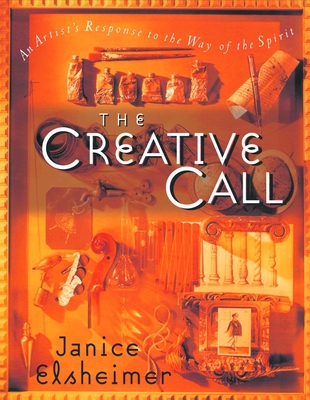 The Creative Call
An Artist's Response to the Way of the Spirit
Shaw Books, Paperback, 9780877881384, 224pp.
Publication Date: November 20, 2001
* Individual store prices may vary.
Buy at Local Store
Enter your zip code below to purchase from an indie close to you.
or
Buy Here
Description
Perhaps you're a "closet writer" who's been scribbling in journals for years. Maybe you once had a passion for playing the piano or violin--a passion that is still flickering somewhere deep inside you. You may have a knack for photography, drawing, gardening, cooking, or some other creative gift. Or you may long to express yourself creatively, but have yet to discover your unique talents.

Your creativity was meant be used. Whether you are an artist who has already identified your gifts or you believe that you have artistic talent that has never been developed, working through this book will help you grow closer to becoming the person God has designed you to be.

*LEARN TO CALL ON THE HOLY SPIRIT AS YOUR SOURCE OF INSPIRATION
* EXERCISE YOUR ARTISTIC GIFT REGULARLY AND BEGIN TO
THINK OF YOURSELF AS AN ARTIST.
* DEVELOP THE HABIT OF JOURNALING AS A WAY TO REALIZE UNLOCKED CREATIVITY
AN EIGHT-WEEK PROGRAM FOR FULLY DEVELOPING YOUR ARTISTIC GIFTS
AND ENTERING INTO A CLOSER UNION WITH GOD. INCLUDES A RETREAT GUIDE.
FOR INDIVIDUAL USE OR GROUP STUDY.
About the Author
Janice Elsheimer is the author of the award-winning "The Creative Call "and a nationally known speaker. She specializes in helping people reawaken their creative gifts by recognizing talents and callings as pathways to spiritual growth. Janice has been gardening for over thirty years and continues to stay grounded in her Winter Park, Florida gardens. Her husband Seth says that she is "a part-time teacher, a part-time writer, and a full-time gardener."


Praise For The Creative Call…
"Janice Elsheimer's book will be an invaluable aid for artists in all fields, helping the creative person to get closer to the Source of true creativity."
--Bryan Savage, bestselling saxophonist/flutist with albums including "Cat Food," "Soul Temptation," and "Rush Hour"

"Chapter-by-chapter, with thought-provoking words and exercises, Janice lifts the veil that blinds our thoughts towards our gifts. Most of us will be able to see ourselves somewhere within the pages of this book. We will then have the chance to overcome the lies that have kept us from believing that we can enjoy the wonderment of creating with the talent we possess."
--from the foreword by Thomas Blackshear, illustrator, painter, and creator of the limited edition prints, "Forgiven" and "Coat of Many Colors"

"To be an artist, receiving the vision and applying creativity may not be enough. Janice Elsheimer models, and suggests to the reader, many of the practical ways of living the fruitful artist?s life. Packed with lived-out illustrations of what it takes in the way of discipline and daily dedication to respond to God's creative call, this book blesses and illuminates."
--Luci Shaw, poet and author, The Angles of Light, Water My Soul, and Friends for the Journey (with Madeleine L?Engle)

"Following The Creative Call made me realize that my creative spirit was not being given free reign. I'm thankful to Janice for listening to God's creative call in her own life and sharing her vision with us."
--Rev. Sarah H. Gaede, Orlando, Florida

"Human creativity has been like a prodigal longing to return to its father. Janice Elsheimer guides the artist home."
--Erwin Raphael McManus, lead pastor of Mosaic, artist, futurist, and author of An Unstoppable Force

"The Creative Call will reawaken and embolden artists to take responsibility for naming, developing, and expressing their creative gifts. The exercises here have the potential to transform an artist's understanding of who God originally created him or her to be, and to provide courage and discipline to actually produce work! I highly recommend that groups of artists work through this material in the context of community, to encourage and challenge one another."
--Nancy Beach, programming director and teaching pastor at Willow Creek Community Church