The Light in the Piazza and Other Italian Tales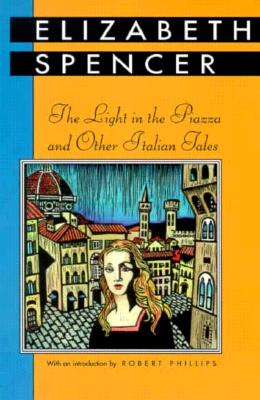 The Light in the Piazza and Other Italian Tales
University Press of Mississippi, Paperback, 9780878058372
Publication Date: March 1, 1996
* Individual store prices may vary.
Buy at Local Store
Enter your zip code below to purchase from an indie close to you.
or
Buy Here
Description
Elizabeth Spencer is captivated by Italy. For her it has been a second home. A one-time resident who returns there, this native-born Mississippian has found Italy to be an enchanting land whose culture lends itself powerfully to her artistic vision.
Some of her most acclaimed work is set there. Her American characters encounter but never quite wholly adjust to the mysteries of the Italian mores. Collected here in one volume are Spencer's six Italian tales. Their plots are so alluring and enigmatic that Boccaccio would have been charmed by their delightful ironies and their sinister contrasts of dark and light.
Spencer is grounded in two bases-Italy and the American South. Her characters too, mostly Southerners, rove in search of connection and fulfillment.
In "The Light in the Piazza" (a novella which has become both Spencer's signature piece and a Hollywood film) a stranger from North Carolina, traveling with her beautiful daughter, encounters the intoxicating beauty of sunlit Florence and discovers a deep conflict in the moral dilemma it presents. "I think this work has great charm," Spencer has said, "and it probably is the real thing, a work written under great compulsion, while I was under the spell of Italy. But it took me, all told, about a month to write."
In "Knights and Dragons" (another novella and a companion piece to "The Light in the Piazza") an American woman in Rome and Venice struggles for release from her husband's sinister control over her. Spencer sets this tale in the cold and wintry dark and here portrays the other face of Italy. In "The Cousins," "The Pincian Gate," "The White Azalea," and "The Visit," Spencer shows the exceptional artistry that has merited acclaim for her as one of America's first-class writers of the short story.
About the Author
Elizabeth Spencer is the author of nine novels, seven collections of short stories, a memoir, and a play. Her novella "The Light in the Piazza" (1960) was adapted for the screen in 1962 and transformed into a Tony-winning Broadway musical of the same name in 2005. She is a member of the American Academy of Arts and Letters and a charter member of the Fellowship of Southern Writers.

Robert Phillips and Helen Brocklehurst, BRISHIN project director and researcher, University of Wales, Swansea.


Robert Phillips, poet, fiction writer, critic, and former chairman of the National Book Award for poetry, is the author or editor of more than thirty books, three of which were named a "Memorable Book of the Year" by The New York Times. Phillips has individual collections of poetry with such publishers as Doubleday, Johns Hopkins University Press, and Ontario Review Press, and among his many prizes are the Award in Literature from the American Academy of Arts and Letters, a CAPS Grant from the New York State Council on the Arts, a National Public Radio Fiction Prize, a Pushcart Prize, and fellowships from Yaddo, the MacDowell Arts Colony, and the Djerassi Foundation. He is the former director of the Creative Writing Program at the University of Houston, where he held an endowed chair as a John and Rebecca Moores University Professor.