Piano Girl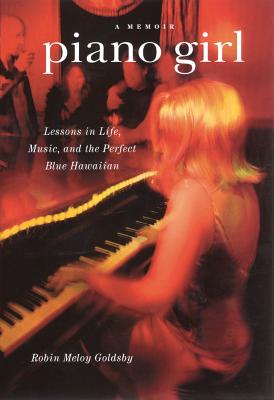 Piano Girl
Lessons in Life, Music, and the Perfect Blue Hawaiian
Backbeat Books, Hardcover, 9780879308247, 278pp.
Publication Date: April 2005
* Individual store prices may vary.
Shop Local
Enter your zip code below to find indies closest to you.
Description
(Book). Piano Girl is the story of one woman's accidental career as a cocktail-lounge piano player. Sometimes poignant and often hilarious, this engaging memoir reveals the comedies, tragedies, and mundane miracles witnessed from the business side of the keyboard. A pianist in lounges and lobbies around the world, Robin Meloy Goldsby tells her story by connecting the people she has met with the places she has played and the pianos she has known. Along the way she discovers the human side, for better or worse, of her audiences mobsters and moguls, the down-and-out and downright scary, and ordinary people dealing with life in extraordinary ways. Her tale provides insights into the art and craft of piano playing as well as inspiring lessons in life as Robin pursues her dreams on her own terms.
About the Author
Robin Meloy Goldsby is the author of "Piano Girl" and "Rhythm." Her third book, "Waltz of the Asparagus People" (Walzer der Spargelmenschen) has also been published in both German and English. Goldsby's thirty-year career as a musician has taken her from roadside dives to posh New York City venues and exclusive resorts, and on to the European castles and concert stages where she now performs. Robin has four solo piano recordings to her name-Twilight, Somewhere in Time, Songs from the Castle, and Waltz of the Asparagus People (a collection of compositions corresponding to the stories in her latest book). Goldsby has appeared on National Public Radio's All Things Considered, the Leonard Lopate Show, and Piano Jazz with Marian McPartland. Robin is a Steinway Artist. She is also the author and composer of "Hobo and the Forest Fairies," a musical for children recorded by WDR (Westdeutscher Rundfunk) in Germany. As a lyricist Goldsby has penned songs for Till Bronner, Curtis Stigers, Jessica Gall, Jeff Cascaro, Robert Matt, and Peter Fessler. In 2010 her collaboration with singer/composer Joyce Moreno, "Slow Music," received a Latin Grammy nomination for Best Brazilian Album. Robin currently lives outside of Cologne, Germany, with her husband-jazz bassist John Goldsby-and their two teenage children.