Essential Haiku Volume 20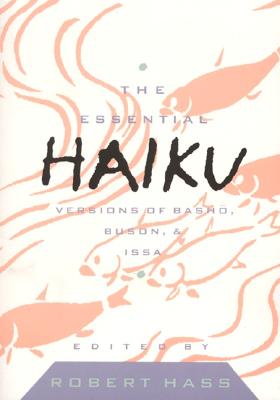 Essential Haiku Volume 20
Ecco Press, Paperback, 9780880013512, 352pp.
Publication Date: August 1, 1995
* Individual store prices may vary.
Buy Now
or
Shop Local
Enter your zip code below to purchase from an indie close to you.
Description
American readers have been fascinated, since their exposure to Japanese culture late in the nineteenth century, with the brief Japanese poem called the hokku or haiku. The seventeen-syllable form is rooted in a Japanese tradition of close observation of nature, of making poetry from subtle suggestion. Infused by its great practitioners with the spirit of Zen Buddhism, the haiku has served as an example of the power of direct observation to the first generation of American modernist poets like Ezra Pound and William Carlos Williams and also as an example of spontaneity and Zen alertness to the new poets of the 1950's.
This definite collection brings together in fresh translations by an American poet the essential poems of the three greatest masters: Matsuo Basho in the seventeenth century; Yosa Buson in the eighteenth century; and Kobayashi Issa in the early nineteenth century. Robert Haas has written a lively and informed introduction, provided brief examples by each poet of their work in the halibun, or poetic prose form, and included informal notes to the poems. This is a useful and inspiring addition to The Essential Poets series.
About the Author
Robert Hass is the author of two earlier collections of poems, "Field Guide" and "Praise, " and a book of essays, "Twentieth Century Pleasures." He has also collaborated with Czeslaw Milosz on the translation of his poems, most recently "Collected Poems." His many honors include a John D. and Catherine T. MacArthur fellowship and the 1984 National Book Critics Circle Award in criticism. He has taught for many years at St. Mary's College of California and is currently a professor of English at the University of California, Berkeley.

Robert Hass was born in San Francisco. His books of poetry include The Apple Trees at Olema (Ecco, 2010), Pulitzer Prize and National Book Award winner Time and Materials (Ecco, 2008), Sun Under Wood (Ecco, 1996), Human Wishes (1989), Praise (1979), and Field Guide (1973), which was selected by Stanley Kunitz for the Yale Younger Poets Series. Hass also co-translated several volumes of poetry with Nobel Laureate Czeslaw Milosz and authored or edited several other volumes of translation, including Nobel Laureate Tomas Transtromer's Selected Poems (2012) and The Essential Haiku: Versions of Basho, Buson, and Issa (1994). His essay collection Twentieth Century Pleasures: Prose on Poetry (1984) received the National Book Critics Circle Award. Hass served as Poet Laureate of the United States from 1995 to 1997 and as Chancellor of the Academy of American Poets. He lives in California with his wife, poet Brenda Hillman, and teaches at the University of California, Berkeley.