Exotic Planting for Adventurous Gardeners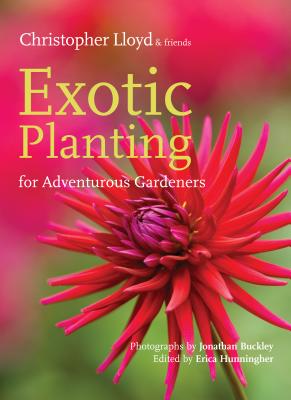 Exotic Planting for Adventurous Gardeners
Timber Press (OR), Hardcover, 9780881928426, 192pp.
Publication Date: October 2007
* Individual store prices may vary.
Buy Now
or
Shop Local
Enter your zip code below to purchase from an indie close to you.
Description
Christopher Lloyd was one of the world's most outspoken and adventurous gardeners. In this, his last book, he offers his unique perspective on creating 'hot and steamy' planting schemes wherever you garden. It features his most extravagant plantings in the famous borders and pot displays that delight and excite, and sometimes shock, visitors to his garden, Great Dixter.
Covering structure as well as content, hardy as well as tender, foliage as well as flowers, "Exotic Planting for Adventurous Gardeners" is a worthy successor to "Succession Planting" and an exuberant swansong for one of the most respected and beloved gardeners ever.
About the Author
Christopher Lloyd, the youngest of 6 children, was born at Great Dixter, a Lutyens house and garden, where his father designed the sunk garden and planted the yew hedges and his formidable mother (known at Great Dixter as "the Management") taught him to garden. Educated at Rugby and Cambridge, he served in the army during the war before taking a BS in horticulture at Wye College, where he also worked as a lecturer. He served in the Army during the war, but in 1954, he returned to set up a nursery specialising in unusual plants in Great Dixter, where he lived for the rest of his long life. He published numerous very successful gardening books, and made a name for himself as the foremost British gardener and British garden writer of his generation. He was awarded an honorary doctorate from the Open University and an OBE for his services to horticulture, but it was the Royal Horticultural Societies Victoria Medal of Honor (VMH) that gave him the greatest satisfaction. He died, aged 84, in 2006. His previous books include" The Well-Tempered Garden "and" Succession Planting for Year-Round Pleasure, "a collaboration with his head gardener, Fergus Garrett. Preface by Beth Chatto, who has won 10 consecutive gold medals at Chelsea Flower Show. In 1960, she began Beth Chatto Gardens, which she created from a wasteland in Essex. She collaborated with Christopher Lloyd in publishing their letters in book form ("Dear Friend and Gardener," 1998).
Introduction by Stephen Anderton, who - at the request of Christopher Lloyd himself - is writing the official biography, with the suppport of the Trustees of Great Dixter. Previously manager of historica garden restoration projects for English Heritage, Stephen Anderton is a freelance garden journalist, author and lecturer. He writes a weekly column for "The Times,"

Hunningher is an editor and editorial consultant, with more than fourteen years' experience of working with top gardening writers.

Buckley specializes in garden and plant photography.