Mushrooms of the Pacific Northwest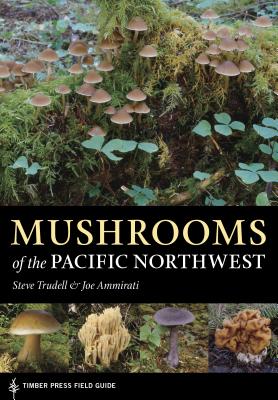 Mushrooms of the Pacific Northwest
Timber Press (OR), Paperback, 9780881929355, 349pp.
Publication Date: August 1, 2009
* Individual store prices may vary.
Buy at Local Store
Enter your zip code below to purchase from an indie close to you.
or
Buy Here
Description
The Pacific Northwest is one of the best places to find mushrooms they are both abundant and spectacularly diverse. Yet until now, there has been no mushroom guide that focuses on the region. This compact, beautifully illustrated guide presents descriptions and photographs of 460 of the region's most conspicuous, distinctive, and ecologically important mushrooms.
The geographic range covered by the book includes Oregon, Washington, southern British Columbia, Idaho, and westernmost Montana, with an emphasis on the heart of mushroom country: the low- to mid-elevation forest habitats of western Oregon and Washington. In addition to profiles on individual species, "Mushrooms of the Pacific Northwest" also includes a general discussion and definition of fungi; information on where to find mushrooms and guidelines on collecting them; an overview of fungus ecology; and a discussion on mushroom poisoning and how to avoid it.

About the Author
Steve Trudell is affiliate professor in the College of Forest Resources and lecturer in the Biology Department at the University of Washington. He has been identifying and photographing mushrooms and studying their ecology for over 30 years. Steve belongs to the Mycological Society of America, North American Mycological Association, and International Mycorrhiza Society, writes for several mycological publications, and frequently serves as foray mycologist or invited lecturer for mycological societies and other nature groups. His research interests include the roles of fungi in forest nutrient cycling.

Joe Ammirati is professor of biology and teaches mycology and botany at the University of Washington. His research focuses mainly on the classification and evolutionary relationships of the gilled fungi, particularly in the genus "Cortinarius", but also includes mushroom biogeography and co-evolution, mushroom toxicity, and fungal diversity of arctic/alpine, boreal, and subalpine habitats. Joe is the scientific advisor to the Puget Sound Mycological Society and Pacific Northwest Key Council.

Marsha Mello lives on the north coast of California with her husband, two border collies, and a flock of sheep. Besides doing illustration and graphic work, she is also a printmaker who shows her etchings of natural subjects at several prestigious galleries and at the famed Monterey Bay Aquarium. Marsha illustrated Letitia Solomon's 1996 book The Clouds that Bumped, and did the scientific illustrations for The Large Macaws (Raintree Publications, 1996) and Mushrooms of the Pacific Northwest (Timber Press, 2009).