Kumak's River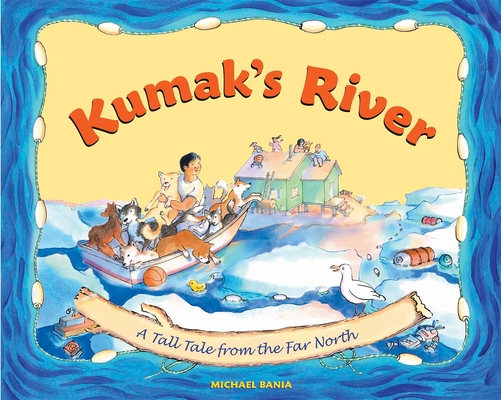 Kumak's River
A Tall Tale from the Far North
Alaska Northwest Books, Hardcover, 9780882408866, 32pp.
Publication Date: September 15, 2012
* Individual store prices may vary.
Buy at Local Store
Enter your zip code below to purchase from an indie close to you.
or
Buy Here
Description
In the Arctic, before winter gives way to buds and flowers, breakup occurs—the moment when the ice of a frozen river suddenly breaks apart in a spectacular sight-and-sound show. Massive chunks of ice crunch and pound against one another, pushing their way down river towards the sea. '"That river will come to visit us today," said Kumak. The water starts rising. It spills out of the river banks, up over the sandy beach, and begins flowing up past the fish racks and boats. As the waters sweep through his village, Kumak and his family take refuge on the roof of his house. In an effort to recover as many of their belonging as possible, Kumak and the village practice the value of community and working together. In this light-hearted, playful adventure, the villagers show respect for nature's immense power as Kumak brings them together to rescue their supplies, toys, household goods, and, finally, Kumak's dogs. Through lively art, humorous text, and informative endnotes, author Michael Bania conveys authentic details on Inupiat village life and provides young readers with a fascinating window into another culture as the life of hapless, yet lovable Kumak continues. 
About the Author
Bania lived for almost 20 years above the Arctic Circle.
Praise For Kumak's River…
Kumak's River. Iñupiat villagers cope with a flood in a cheery tale that's not so much "Tall" as it is Wet. Watching the river ice break up after eight frozen months, papa Kumak comments to his family, "As sure as seagulls return in spring, that river will come to visit us today." Indeed it does—as Kumak and his neighbors watch from the roofs of their stilt-based homes, the water rises behind a temporary jam to carry away the village's oil drums, fish tubs, net floats and toys, as well as the boat into which Kumak has herded his motley pack of dogs. The river doesn't "visit" long, though, and once the dam breaks up, everyone climbs down to help one another successfully recover their strayed goods and animals. The Alaskan author draws from her own experiences to tell the lightly patterned tale, and she illustrates it with bright watercolor scenes replete with frisky dogs and smiling people (the latter in modern dress). There is some brief drama, but it's less a tale of hardship or survival than a celebration of the season's turn and an authentic glimpse of life in northwestern Alaska.  A valuable, loving look at an often-overlooked culture. (afterword) (Picture book. 5-7).    ---Kirkus Reviews 7-26-2012
"The story is told in spare yet rhythmic prose, with the repeated refrain of "Just in time!" adding structure. . . The line and watercolor art is jaunty and appealing, with teeming vignettes of people and stuff contrasting with the wide open skies and broad blue river. A float-ringed thumbnail "window" cleverly provides an ongoing dog-cam that follows the exploits of the drifting dogs as the family waits for the waters to subside. With a style that's suitable for reading alone or reading aloud one on one, this is an unusual adventure that will intrigue many young residents of the lower 48." 
---
Deborah Stevenson, Bulletin of the Center for Children's Books, Vol. 66. No. 2, October 2012
"The cheery line and watercolor vistas of smiling Iñupiat, dogs, and gulls enjoying their adventure amid pounding ice and deep blue water are a fine match for the well-paced text. For anyone in the lower forty-eight who has suffered from extreme weather and its consequences, the depiction of people thriving in harmony with a natural environment that both challenges and sustains them offers plenty of room for discussion."
—Joanna Rudge Long,
Horn Book Magazine