The Lunch Thief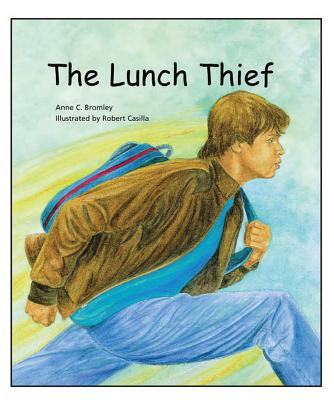 The Lunch Thief
Tilbury House Publishers, Hardcover, 9780884483113, 32pp.
Publication Date: June 15, 2010
* Individual store prices may vary.
Buy at Local Store
Enter your zip code below to purchase from an indie close to you.
or
Buy Here
Description
His mom had packed his lunch bag with two burritos, a bag of corn chips, some carrots, and an apple. Once a week she tucks in a slice of her special lemon pound cake. Rafael saw Kevin, a new kid in his class, sneak his lunch bag from underneath his desk and tuck it in his backpack. But how can he do something about the theft without picking a fight? Inspired by his mother's advice to Use your mouth before your fists, Rafael bides his time, but other kids' lunches are disappearing, too. On an errand with his mom, Rafael sees Kevin carrying a bundle of laundry into a motel room, and his mom tells him Kevin's family might be one of the families who lost their homes in the recent wildfires. Rafael rethinks his anger. The next day, instead of accusing Kevin, Rafael invites him to share his lunch, letting Kevin know he's been caught, but offering friendship as well as lunch.
About the Author
Anne C. Bromley lives in Encinitas, California, with her husband Rod. She is a business-writing instructor and consultant who teaches seminars throughout southern California. She has also taught creative-writing workshops for children and for adults. Anne has published two books of poetry with Carnegie Mellon University Press. She has both Master of Fine Arts and Master of Education degrees. Anne enjoys hiking in the high desert of Joshua Tree National Park, strolling along Swami's Beach at sunset, and observing the wildlife of her beach-town neighborhoodferal cats, raccoons, opossums, an occasional coyote, and surfers. Inspired by her experiences as a substitute teacher in northern San Diego County, The Lunch Thief is her first children's book.
Robert Casilla was born in Jersey City, New Jersey to parents from Puerto Rico. Like many children, Robert always loved to draw. As the new kid in his second grade class, he recalls doing a drawing of two birds with colored chalk on construction paper. His teacher noticed the drawing and then told the class, "We have an artist in the class!" Robert is thankful to her and all the teachers that motivated and helped him realize he had talent as an artist. Although he grew up in New Jersey, he did get to attend school in Puerto Rico as a fourth grader.
His formal training in art took place at the School of Visual Arts in New York City where he earned a BFA degree.
Since 1984, Robert has worked as a freelance illustrator for magazines, book publishers, postage stamps, educational publishers and others.
He has illustrated over 25 children's books, many of which are picture book biographies of people such as Martin Luther King, Jr., Jackie Robinson, Rosa Parks and John F. Kennedy. He has also illustrated many multicultural children's books such as "Jalapeno Bagels, The Little Painter of Sabana Grande, The Legend of Mexicatl" and "First Day in Grapes" which won the Pura Belpre Honor Award.
Robert visits many schools to talk about the visual journey a story takes him through to come up with the illustrations for his books. He also teaches art to young gifted artist one day a week.
Robert lives and works from his home in New Fairfield, Connecticut with his wife and two children, 3 cats and his feisty shih tzu dog.