Hudson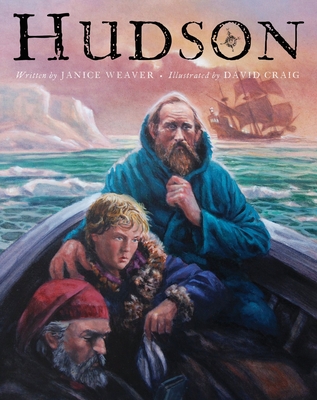 Hudson
Tundra Books (NY), Hardcover, 9780887768149, 47pp.
Publication Date: September 14, 2010
* Individual store prices may vary.
Buy Now
or
Shop Local
Enter your zip code below to purchase from an indie close to you.
Description
History has not been kind to Henry Hudson. He's been dismissed as a short-tempered man who played favorites with his crew and had an unstoppable ambition and tenacity. Although he gave his name to a mighty river, an important strait, and a huge bay, today he is remembered more for the mutiny that took his life. The grandson of a trader, Hudson sailed under both British and Dutch flags, looking for a northern route to China. Although none of his voyages led to the discovery of a northwest passage, he did explore what is now Hudson's Bay and what is now New York City.

Whatever his personal shortcomings, to sail through dangerous, ice-filled waters with only a small crew in a rickety old boat, he must have been someone of rare courage and vision. In Hudson, Janice Weaver has created a compelling portrait of a man who should be remembered not for his tragic end, but for the way he advanced our understanding of the world.
About the Author
Janice Weaver is the author of several previous works of nonfiction for young people. Her first two books, Building America and "From Head to Toe," were both named Notable Books by the International Reading Association. "From Head to Toe" was also nominated for both the Rocky Mountain Book Award and the Ontario Library Association's Red Maple Award. She lives in Toronto.

David Craig is a highly acclaimed Canadian artist and illustrator whose work has earned him international recognition. He is the inaugural winner of the James Madison Book Award for his work in First to Fly: How Wilbur and Orville Wright Invented the Airplane. Raised in Ottawa, Ontario, David lives in Mississauga, Ontario.
Praise For Hudson…
Praise For Mirror With A Memory:
". . . A great visual retrospective of a nation's people and events."
- School Library Journal

Praise For Building America:
"This is more than a marvelous illustrated history of architecture in America; it provides an easy-to-take social context for the buildings it showcases."
- Philadelphia Inquirer

Praise For From Head To Toe:
"[an] always engaging and often enthralling account of the place of clothes and assorted adornments through the ages. . . .Weaver is that exemplary explicator for whom one thing always leads to another. . . ."
- The Globe and Mail