Sweet!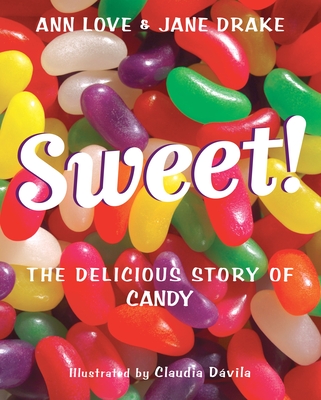 Sweet!
The Delicious Story of Candy
Tundra Books (NY), Paperback, 9780887769627, 64pp.
Publication Date: April 14, 2009
* Individual store prices may vary.
Not Currently Available for Direct Purchase
or
Shop Local
Enter your zip code below to purchase from an indie close to you.
Description
Through time and across continents, stories of sweets and their inventors intrigue and entertain us. Learn about primal sweets from honey, sweet milk, and nuts to sugar candy, chocolate, and sweet stories of success.
Sweet The Delicious Story of Candy takes us through history from 4,000 B.C., when islanders in Papua New Guinea cut sugarcane for its sap, and 2,600 B.C., when the first-known beekeepers produced honey to embalm the dead, to 500 A.D., when the Chinese made pear and plum syrups from unripe fruit, and all the way through to the world's first chocoholics and modern-day candy factories.
From cravings to the scoop on ice cream, Ann Love and Jane Drake present a comprehensive and irresistible story of candy through the ages, complemented by a detailed timeline and playful illustrations from artist Claudia Davila.
"From the Hardcover edition.
Praise For Sweet!…
"…the results are delightful. In fact, reading their new book is a little like dipping into a grab bag from the candy store: the experience is fun, varied, and relatively cheap, considering the pleasure it gives. The difference is that you can take in the whole book at a single sitting and feel the better for it. Underneath its whimsical exterior — the humorous cartoon illustrations, the fun bits of trivia — there's a centre of solid research. The writing is clear and engaging…. This thoughtfully constructed book is a treat to read."
Starred review
— Quill & Quire

Praise for Trash Action: A Fresh Look at Garbage:

"One of the very best things about this very good book is that it doesn't preach; it will encourage and empower readers of all ages.…"
— Globe and Mail

"If you have a young eco-warrior living in your house — or you want to help create one — this is the book."
— Today's Parent-Toronto

Praise for Snow Amazing: Cool Facts and Warm Tales:

"A super-sized snow celebration … includes plenty of delightfully odd facts.…"
— Kirkus Reviews

"… the Drake-Love duo delivers the goods on snow and its place in North American lives, past and present … [an] engrossing book."
— Globe and Mail

Praise for Cool Woods: A Trip Around the World's Boreal Forest:

"… totally right on.…"
— Globe and Mail

"… informative and beautiful…. [Y]oung readers will be inspired to find out more."
— Quill & Quire