What's for Lunch?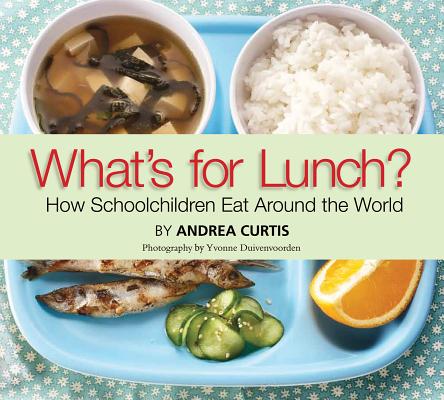 What's for Lunch?
Red Deer Press, Paperback, 9780889954823, 40pp.
Publication Date: June 28, 2012
* Individual store prices may vary.
Buy Now
or
Shop Local
Enter your zip code below to purchase from an indie close to you.
Description
"VOYA's Non Fiction Honour List 2013
2013 Information Book Award Long List nominee
Whether their school is under a banyan tree, in a dusty tent held up with poles or in a sturdy brick structure in the heart of a bustling city, all children need a healthy lunch to be able to learn and grow. Good food nourishes both our bodies and our brains. It's one of the basic building blocks of life.
As the world has become more interconnected, what we eat has become part of a huge global system. Food is now the biggest industry on Earth. Growing it, processing it, transporting it and selling it have a major impact on people and the planet. Unpack a school lunch, and you'll discover that food is connected to issues that matter to everyone and everything such as climate change, health and inequality.
In "What's For Lunch "Andrea Curtis reveals the variety and inequality to be found in the food consumed by young people in typical school lunches from thirteen countries around the world, including Japan, Kenya, Russia, United States and Canada, Mexico, Brazil, and Afghanistan. In some countries, the meals are nutritious and well-balanced. In others they barely satisfy basic nutrition standards.
The book includes graphic colour photos of each of the lunches described, and stimulating sidebars that deal with various global food issues. It also provides messages for parents, teachers and kids about the significance of food, and more significantly, a list of ways in which children can reclaim school lunches for themselves by insisting on healthy, nutritious food.

About the Author
Andrea Curtis, writer and editor, has written about everything from women's health to neighborhood change, from personalities in the literary world to those in the urban forest. She is the author of the acclaimed "What's for Lunch: How Schoolchildren Eat Around the World" for younger readers. Her critically acclaimed "Into the Blue: Family Secrets and" "The Search for a Great Lakes Shipwreck" won the Edna Staebler Award for Creative Non--Fiction. Her writing has also appeared in "Toronto Life", "Chatelaine", "Canadian Geographic", "Explore", "Utne Reader", "The Globe & Mail", "Today's Parent", cbc.ca/arts and others.A graduate of McGill University in Montreal, Andrea now lives in Toronto with her husband and two sons, and volunteers for the Toronto non-profit, Word-Play.