Beautiful Outlaw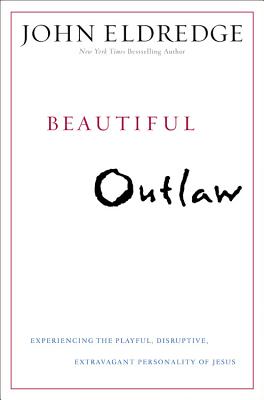 Beautiful Outlaw
Experiencing the Playful, Disruptive, Extravagant Personality of Jesus
Faithwords, Hardcover, 9780892960880, 225pp.
Publication Date: October 12, 2011
* Individual store prices may vary.
Buy at Local Store
Enter your zip code below to purchase from an indie close to you.
or
Not Currently Available for Direct Purchase
Description
Reading the Gospels without knowing the personality of Jesus is like watching television with the sound turned off. The result is a dry, two dimensional person doing strange, undecipherable things.

In BEAUTIFUL OUTLAW, John Eldredge removes the religious varnish to help readers discover stunning new insights into the humanity of Jesus. He was accused of breaking the law, keeping bad company, heavy drinking. Of being the devil himself. He was so compelling and dangerous they had to kill him. But others loved him passionately. He had a sense of humor. His generosity was scandalous. His anger made enemies tremble. He'd say the most outrageous things. He was definitely not the Jesus of the stained glass.

In the author's winsome, narrative approach, he breaks Jesus out of the typical stereotypes, just as he set masculinity free in his book, Wild at Heart. By uncovering the real Jesus, readers are welcomed into the rich emotional life of Christ. All of the remarkable qualities of Jesus burst like fireworks with color and brilliance because of his humanity.

Eldredge goes on to show readers how they can experience this Jesus in their lives every day. This book will quicken readers' worship, and deepen their intimacy with Jesus.
About the Author
John Eldredge is the author of numerous bestselling books including Wild at Heart, Fathered by God, and Beautiful Outlaw. He is also director of Ransomed Heart, a ministry devoted to restoring men and women in the love of God. John lives in Colorado but adventures around the world?often with his sons.
Praise For Beautiful Outlaw…
"Eldredge's trademark passion and personal transparency offer another inspiring challenge that could revolutionize lives as did his Wild at Heart."
-Christian Retailing, Editor's Pick

"Bestselling author Eldredge (Wild at Heart), founder of Ransomed Heart Ministries, uses his playful style to uncover the truth about who Jesus really was. With an eyebrow-raising warning about the "poison of religion," he urges readers to turn from religious power displays and legalism and instead spend time falling in love with the man, Jesus. Eldredge repeats tales from the Gospels to reveal a leader who was both humorous and confrontational, generous and moody. Eldredge clearly loves his subject, almost chuckling in delight at Jesus' antics. Readers get an intriguing glimpse of Jesus waiting his turn in line, "snorting" in anger, and artfully outsmarting his enemies. On the other hand, many of the themes are recycled (e.g., Jesus is your friend, suffering happens for a reason), and the book lacks opportunities for application and reflection (e.g., study questions). Still, readers will find a three-dimensional Jesus and may find themselves re-reading scripture with an eye on characters' feelings."
-Publishers Weekly