Thank You Notes 2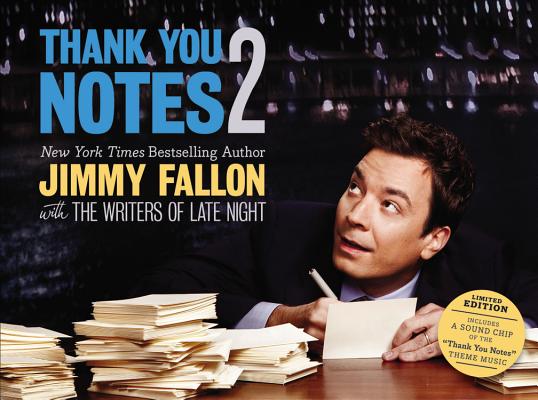 Thank You Notes 2
Grand Central Publishing, Paperback, 9780892967360, 176pp.
Publication Date: May 22, 2012
* Individual store prices may vary.
Not Currently Available for Direct Purchase
or
Shop Local
Enter your zip code below to purchase from an indie close to you.
Description
LIMITED EDITION: INCLUDES SOUND CHIP WITH THANK YOU NOTES THEME MUSIC.

Picking up where the first Thank You Notes left off, Jimmy Fallon has many more people and things to thank. He addresses some 200 new subjects in need of his undying "gratitude." Each page will feature one note and a photograph of its recipient.

"Thank you, gift bags, for saying "I care enough to put your gift in a slightly fancier bag than the one I bought it in."

"Thank you, people whose Facebook profile picture is them as a baby, for basically saying, "Here's the last time I wasn't ugly."

"Thank you, women who walk around with their yoga mats in slings, for either looking like an unemployed archer or a bazooka smuggler."

HAVING TROUBLE GETTING THE THEME TO PLAY? HERE IS HOW TO MASTER "THE PINCH"

1. Put the tip of your left thumb on the "Pinch Here" black dot on the inside cover
2. Put the tip of your index finger on the front cover, opposing your thumb tip
3. USE FINGER TIPS ONLY, AND PINCH HARD
4. If that doesn't work, try a few other places right around the black dot until you find the sensor
5. PINCH AWAY!
About the Author
Emmy Award and Grammy Award winner Jimmy Fallon did everything in his power to ensure that his daughter's first word would be "Dada!" Yes, he has many other projects on his plate, like hosting NBC's "The Tonight Show". But he was determined that his daughter would say "Dada!" before any other word. He worked very hard on this. Jimmy Fallon lives with his wife, Nancy, and their daughters, Winnie Rose and Frances Cole, in New York City. Winnie's first word was "Mama!"