Thank You Notes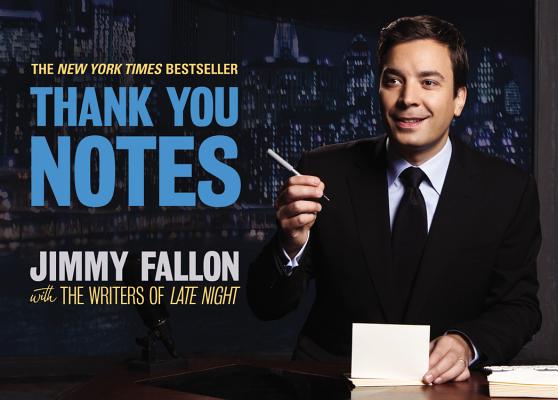 Thank You Notes
Grand Central Publishing, Paperback, 9780892967414, 166pp.
Publication Date: May 23, 2011
* Individual store prices may vary.
Buy at Local Store
Enter your zip code below to purchase from an indie close to you.
or
Buy Here
Description
Jimmy Fallon is very thankful. And in this first book to come from his TV show, he expresses his gratitude for everything from the light bulb he's too lazy to replace to the F12 button on his computer's keyboard. He thanks microbreweries for making his alcoholism seem like a neat hobby. He thanks the name "Lloyd" for having two L's. Otherwise it would just sound like "Loyd." He thanks the slow-moving family walking in front of him on the sidewalk. Without this "barricade of idiots," he might never have been forced to walk in the street and risk getting hit by a car in order to get around them. He's thankful to you, the person reading this right now. It means you're considering buying this book. You should do it. You will be thankful that you did.
About the Author
Emmy Award and Grammy Award winner Jimmy Fallon did everything in his power to ensure that his daughter's first word would be "Dada!" Yes, he has many other projects on his plate, like hosting NBC's "The Tonight Show". But he was determined that his daughter would say "Dada!" before any other word. He worked very hard on this. Jimmy Fallon lives with his wife, Nancy, and their daughters, Winnie Rose and Frances Cole, in New York City. Winnie's first word was "Mama!"


Wednesday, Jul 4, 2012
Fallon talks with Terry Gross about listening to the radio and doing impressions of people like Neil Young. More at NPR.org
Monday, May 23, 2011
Fallon is thankful for slow walkers, people named Lloyd and the word "moist." The comedian and host of Late Night collects more than 100 nuggets of gratitude in a new book called Thank You Notes. He talks with Terry Gross about giving thanks and doing impressions. More at NPR.org