She Shall Be Praised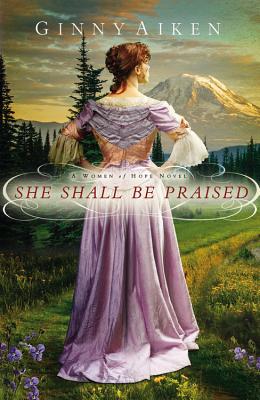 She Shall Be Praised
Faithwords, Paperback, 9780892968466, 390pp.
Publication Date: January 7, 2014
* Individual store prices may vary.
Buy at Local Store
Enter your zip code below to purchase from an indie close to you.
or
Buy Here
Description
When socialite Emma Crowell stops the carriage on the way to Portland to 'exercise' her new puppy, the last thing she expects is to be left behind in decidedly unsuitable attire, let alone kidnapped. Fortunately, she is soon found by local rancher Peter Lowery. Unfortunately, he has no intention of abandoning his livelihood to take her back to civilization until the fall. He will, however, provide food, shelter and safety, and in return he expects Emma to earn her keep.
Emma is surprised to find she enjoys the challenges of life at the cabin and feels drawn to Peter and his young son Robby. But though willing to learn, no matter how she tries, she never seems to live up to expectations. As Emma seeks God's guidance and aspires to the picture of womanhood shown in the 31st chapter of Proverbs, Peter comes to realize that he may be underestimating the strength and character behind this woman's beauty.

About the Author
Carolyne Aarsen lives in Northern Alberta where she was born, raised and married and has raised four children and numerous foster children. Carolyne's writing has been honed between being a stay-at-home mother, housewife, gardener, crafter columnist and business partner with her husband in their cattle farm and logging business. Writing for Love Inspired has given her the chance to combine her love of romance writing with her love for the Lord.
Praise For She Shall Be Praised…
"She Shall Be Praised is an incredible story of love, faith and hope....Be prepared for your heart to be engaged."—Lynette Eason, bestselling author of the Deadly Reunions series

"This beautifully written love story has a believable plot and characters who are charming. . .Vivid descriptions pull the reader into the setting. Aiken is an amazing writer."—RT Book Reviews, starred review

"Ginny Aiken takes readers on a delightful, heart-warming adventure in She Shall be Praised, the second book in her Women of Hope series. Historical fiction fans will be charmed by the story of a naïve young woman's journey into Christian womanhood in the Oregon wilds. Aiken is a master of 1800s fiction, and every word is pitch perfect."—Marta Perry, award-winning author of the Pleasant Valley Amish series

"Ginny Aiken captures the flavor of the late 1800s perfectly and brings her readers on a lively adventure."—Trish Perry, co-author of The Midwife's Legacy

"[A]n engaging tale of duty, romance, family, and love....I'll be eager to see what character Ms. Aiken chooses next to feature in this exciting new series."—Serena Chase, USAToday.com on For Such A Time As This

"In her second series outing, Aiken does a splendid job of painting life in 1880s Oregon while giving readers an inspiring, relatable female protagonist."—Library Journal on Remember Me When

"In this engrossing second installment of her Women of Hope historical series, Aiken delivers a beautiful, inspirational slice of life set in 1880s Oregon.... Rich with detail, the events unfold very naturally."—Publishers Weekly on Remember Me When

"Aiken's second Women of Hope novel connects nicely to the first.... The 1880 Oregon setting is accurately illustrated and the heroine's journey to renewed faith in God is nicely depicted."— RT Book Reviews on Remember Me When, ****