The Checkbook and the Cruise Missile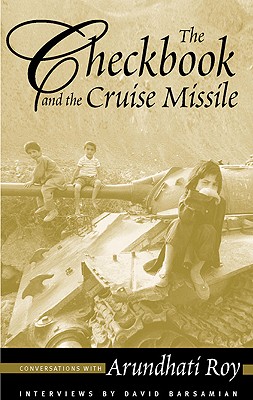 The Checkbook and the Cruise Missile
Conversations with Arundhati Roy
South End Press, Paperback, 9780896087101, 178pp.
Publication Date: March 1, 2004
* Individual store prices may vary.
Buy at Local Store
Enter your zip code below to purchase from an indie close to you.
or
Not Currently Available for Direct Purchase
Description
A skillful interviewer can reveal aspects of a writer's voice in simple yet telling ways. As a novelist, Arundhati Roy is known for her lush language and intricate structure. As a political essayist, her prose is searching and fierce. All of these qualities shine through in the interviews collected by David Barsamian for "Globalizing Dissent: Converations with Arundhati Roy." New and devoted readers will find that these exchanges, recorded between 2001 and 2003, add to their appreciation of Roy's previous work.
Whether discussing her childhood or the problems of translation in a multilingual society, Roy and Barsamian, the producer and host of Alternative Radio, engage in a lively and accessible manner. Speaking candidly and casually, Roy describes her participation in a demonstration against the Indian dam program as, "absolutely fantastic." She jokes that her Supreme Court charge for "corrupting public morality"--in the case of her novel The God of Small Things--should have been changed to "further corrupting public morality." She calls on her training as an architect to explain what she means by the "physics of power." Like a house of cards, she argues that "unfettered power . . . cannot go berserk like this and expect to hold it all together."
Roy has been acclaimed for her courage (Salman Rushdie) and her eloquence ("Kirkus Reviews"), and her writing has been described as "a banquet for the senses" ("Newsweek"). She has found a readership among fiction enthusiasts and political activists. "Globalizing Dissent" captures Roy speaking one-on-one to her audience, revealing her intense and wide-ranging intellect, her very personal voice, and her opinion on momentous political events.
Arundhati Roy's novel "The God of Small Things" was awarded the Booker Prize in 1997. She is the recipient of the 2002 Lannan Foundation Prize for Cultural Freedom.
About the Author
Arundhati Roy is the author of the novel The God of Small Things, for which she received the 1997 Booker Prize. She has also written several non-fiction books, including Field Notes on Democracy: Listening to Grasshoppers and Walking with the Comrades. Roy is the recipient of the 2002 Lannan Foundation Cultural Freedom Prize.

David Barsamian, founder and director of the award-winning and widely syndicated weekly show Alternative Radio, has authored several books of interviews with leading political thinkers, including Arundhati Roy, Howard Zinn, Edward Said, and Noam Chomsky. He and Chomsky co-authored and co-narrated "Imperial Ambitions" for Macmillan. He lives in Boulder, Colorado.