Myrrh/ My Life as a Screamer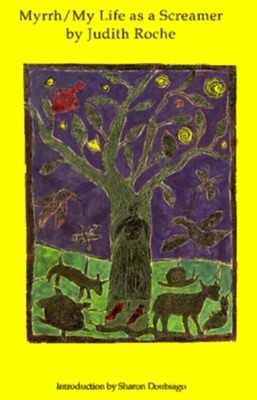 Myrrh/ My Life as a Screamer
Black Heron Press, Paperback, 9780930773304, 100pp.
Publication Date: January 2010
* Individual store prices may vary.
Shop Local
Enter your zip code below to find indies closest to you.
Description
From the introduction: "Roche follows the orders of the poem rather than making the poem bend to her will. When one realizes how profoundly Myrrh comes from the practice on all levels, how successfully she pulls off one of the riskiest of endeavors.one begins to grasp... a highly original, courageous, mature, beautiful singularity of Voice, Theme, Sound, Image, etc., making up a brilliant whole."-- Sharon Doubiago
About the Author
All Fire All Water is Judith Roche's fourth poetry collection. Her third, Wisdom of the Body, won an American Book Award. She has published widely in various journals and magazines, and has poems installed on several public art projects in the Seattle area. She edited First Fish, First People: Salmon Tales of the North Pacific Rim, which also won an American Book Award. She has conducted workshops around the United States and has taught at several universities. She currently teaches at Richard Hugo House Literary Center. She is a Fellow in the Black Earth Institute, a progressive think tank exploring the links between nature, spirit, and social justice.

Sharon Doubiago's memoir, MY FATHER'S LOVE: PORTRAIT OF THE POET AS A YOUNG GIRL, VOLUME 1 (Wild Ocean Press, 2009), is a finalist in the Northern California Book Awards in Creative Nonfiction, 2010. Volume Two is forthcoming. Love on the Streets: Selected and New Poems (University of Pittsburgh Press, 2008) received the Glenna Luschei Distinguished Poet Award and was a finalist in the Paterson New Jersey Poetry Prize. She has written two dozen books of poetry and prose, most notably the epic poem HARD COUNTRY (West End Press, 1999), the book-length poem South America Mi Hija (University of Pittsburgh Press, 1992), which was nominated twice for the National Book Award, and the story collections EL NINO (Lost Roads Press, 1989) and The Book of Seeing with One's Own Eyes (Graywolf Press, 1988), which was selected to the Oregon Culture Heritage list: Literary Oregon, 100 Books, 1800-2000. She holds three Pushcart Prizes for poetry and fiction and the Oregon Book Award for Poetry for Psyche Drives the Coast and a California Arts Council Award. She's an online mentor in Creative Writing for the University of Minnesota (Split Rock) and a board member of PEN/Oakland. For two decades she has been writing Son, a memoir about the mother-son relationship, for which she has received two Oregon Institute of Literary Art Fellowships. Her new collection of memoir stories, Why She Loved Him, is circulating. She has published over a hundred essay--from the personal and creative, to the scholarly.