Finding a Clear Path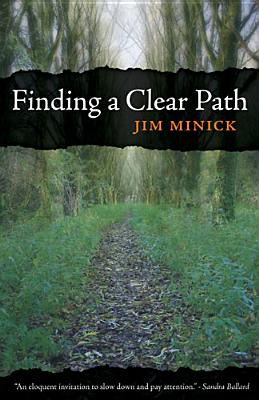 Finding a Clear Path
Vandalia Press, Paperback, 9780937058978, 224pp.
Publication Date: March 1, 2006
* Individual store prices may vary.
Buy at Local Store
Enter your zip code below to purchase from an indie close to you.
or
Buy Here
Description
Finding a Clear Path intertwines Appalachian literature, agriculture, and ecology as author Jim Minnick describes everything from the changing seasons to the beneficial black snakes. He takes the reader on many journeys, including a walk and a ?drive?. He also allows the reader to float, fly, gather, and grow. Using his background as a blueberry farmer and his own personal life experiences, Minick adds a touch home that will truly be enjoyed by those interested in the Appalachian region. Having studied ecology, Minick also introduces information that can be appreciated from a scientific point of view. Reading this collection of essays will allow you to relax into some armchair exploration of Appalachia or perhaps spark you to start some journeys of your own.

Praise For Finding a Clear Path…
"In Finding a Clear Path, Jim Minick maps the trails, real and metaphorical, that twine through the ancient Appalachian hills and through the hearts of those who love them, gracefully uniting the land, the wildlife, and its people."
Scott Weidensaul, author Mountains of the Heart
"In Finding a Clear Path, Jim Minick walks woods, gardens, and fields with a poet's eye; his seeing is sharp, his knowledge deep, his sentences tough and lean. And he is as practical as a farmer's almanac, too, offering not only observations and reflections, but advice on country matters of all kinds. Minick knows that on this lovely, flawed planet of ours, much is well."
Richard Hague, author Ripenings and Milltown Natural
"Jim Minick is blessed with brevity. Each of his one to three page essays meditates on one small thing, yet manages to enhance our understanding of the whole wide world. Readers be warned: seeing the macrocosm in a microcosm is a dangerous subversion of the normal egocentric human perspective, and may cause changes in attitude."
Chris Bolgiano, author The Appalachian Forest and Living in the Appalachian Forest
"...Finding a Clear Path is a beautifully wrought example of nature writing and environmental advocacy at its most appealing."
John C. Inscoe, Journal of Appalachian Studies