Manservant and Maidservant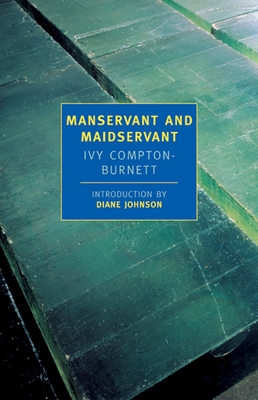 Manservant and Maidservant
New York Review of Books, Paperback, 9780940322639, 328pp.
Publication Date: February 28, 2001
* Individual store prices may vary.
Buy Now
or
Shop Local
Enter your zip code below to purchase from an indie close to you.
Description
At once the strangest and most marvelous of Ivy Compton-Burnett's fictions, "Manservant and Maidservant" has for its subject the domestic life of Horace Lamb, sadist, skinflint, and tyrant. But it is when Horace undergoes an altogether unforeseeable change of heart that the real difficulties begin. Is the repentant master a victim along with the former slave? And how can anyone endure the memory of the wrongs that have been done?
About the Author
Ivy Compton-Burnett was born in Middlesex in 1884. Compton-Burnett was encouraged by her liberal and unorthodox father, homeopath Dr Burnett, to prepare to read classics at London university (neither Oxford nor Cambridge gave degrees to women at this time). She had dearly loved her father, who died without warning from a heart attack in 1901 when she was sixteen. Her closest brother died three years later, and Ivy Compton-Burnett went on to lose three more of her younger siblings and her mother by the time she was 35, something she could hardly bear to speak about, but constantly explored in her novels. Compton-Burnett published twenty novels, the first while she was in her twenties, in 1911. However, the first of her works to use her mature and startlingly original style was published when she was forty, in 1925. Compton-Burnett's fiction deals with domestic situations in large households which, to all intents and purposes, invariably seem Edwardian. The description of human weaknesses and foibles of all sorts pervades her work, and the family that emerges from each of her novels must be seen as dysfunctional in one way or another.She was named a Dame Commander of the British Empire in 1967, two years before her death in 1969.



Diane Johnson, a three-time National Book Award finalist (most recently in 1997 for Le Divorce), is the author of twelve previous books. She divides her time between San Francisco and Paris.
Praise For Manservant and Maidservant…
The realism of this novel [Manservant and Maidservant] like the realism of all Dame Ivy's novels goes far beyond verisimilitude to some psychologically consistent truth that transcends words.
— Constance Lewis

A remarkable and unusual novelist, who has, in her own well-tilled field, no rival and no parallel.
— Times Literary Supplement

The thing is, Compton-Burnett is absolutely sui generis, although she's often compared to Jane Austen. But as Francine Prose points out in the afterward to one of these new editions, she is Austen on bad drugs. Compton-Burnett herself was loftily dismissive of a comparison with Henry James. Her remorseless humor and savagery are a unique cocktail. There's no middle ground with this novelist—you're either bewildered by her or you become an addict. The technical term for the latter is an Ivyist. I do urge you to find out where you stand.
— Maria Aitken, Bomb