Letters Summer 1926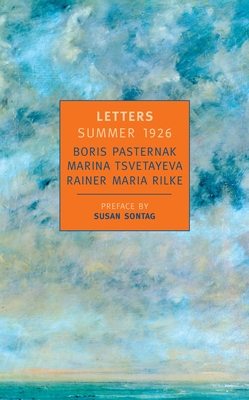 Letters Summer 1926
New York Review of Books, Paperback, 9780940322714, 378pp.
Publication Date: October 2001
* Individual store prices may vary.
Buy Now
or
Shop Local
Enter your zip code below to purchase from an indie close to you.
Description
Edited by Yevgeny Pasternak, Yelena Pasternak, and Konstantin M. Azadovsky
The summer of 1926 was a time of trouble and uncertainty for each of the three poets whose correspondence is collected in this moving volume. Marina Tsvetayeva was living in exile in France and struggling to get by. Boris Pasternak was in Moscow, trying to come to terms with the new Bolshevik regime. Rainer Maria Rilke, in Switzerland, was dying. Though hardly known to each other, they began to correspond, exchanging a series of searching letters in which every aspect of life and work is discussed with extraordinary intensity and passion. "Letters: Summer 1926" takes the reader into the hearts and minds of three of the twentieth century's greatest poets at a moment of maximum emotional and creative pressure.
About the Author
BORIS Leonidovich PASTERNAK won the Nobel Prize in Literature in 1958 "for his important achievement both in contemporary lyrical poetry and in the field of the great Russian epic tradition." -- the Nobel Prize committee. Pasternak had to decline the honor because of the protests in his home country. Doctor Zhivago became an international bestseller and was translated into 18 languages but circulated only in secrecy and translation in Russia. In 1987 the Union of Soviet Writers posthumously reinstated Pasternak, a move that gave his works a legitimacy they had lacked in the Soviet Union since his expulsion from the writers' union in 1958 and that finally made possible the publication of Doctor Zhivago in the Soviet Union. Pasternak's son accepted his father's Nobel Prize medal at a ceremony in Stockholm in 1989.
"From the Hardcover edition."
Marina Ivanovna Tsvetaeva (8 October 1892 - 31 August 1941) was a Russian and Soviet poet and writer born in Moscow. Her work was not looked kindly upon by Stalin and the Bolshevik r gime; her literary rehabilitation only began in the 1960s. Tsvetaeva's poetry arose from her own deeply convoluted personality, her eccentricity and tightly disciplined use of language. Among her themes were female sexuality, and the tension in women's private emotions; she bridges the mutually contradictory schools of Acmeism and symbolism.
Rainer Maria Rilke was born in Prague in 1875 and traveled throughout Europe for much of his adult life, returning frequently to Paris. There he came under the influence of the sculptor Auguste Rodin and produced much of his finest verse, most notably the two volumes of "New Poems "as well as the great modernist novel "The Notebooks of Malte Laurids Brigge." Among his other books of poems are "The Book of Images" and "The Book of Hours. "He lived the last years of his life in Switzerland, where he completed his two poetic masterworks, the "Duino Elegies" and "Sonnets to Orpheus." He died of leukemia in December 1926.