Final Rights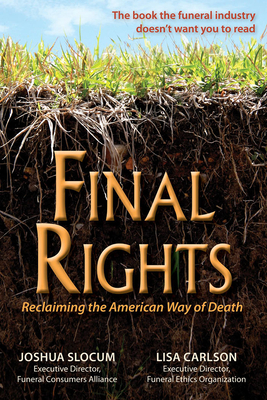 Final Rights
Reclaiming the American Way of Death
Upper Access, Paperback, 9780942679342, 511pp.
Publication Date: June 15, 2011
* Individual store prices may vary.
Buy Now
or
Shop Local
Enter your zip code below to purchase from an indie close to you.
Description
Decades after Jessica Mitford stunned America with vivid accounts of corruption and abuse in the death industry, not much has improved. Families are manipulated into buying expensive goods and services they don't need or want. Prepaid funeral money vanishes into thin air. Body parts are sold on the black market. Eight states force families to pay a funeral director even if they conduct a home funeral with no need for help. But a consumer movement is no awakening, and Americans are asserting their rights over a key part of life, just as they did in the past with the natural childbirth and hospice movements. The two most prominent leaders of that movement are the authors of this book: Joshua Slocum, executive director of Funeral Consumers Alliance, and Lisa Carlson, executive director of Funeral Ethics Organization. Here they join forces to expose wrongdoing, inform consumers of their rights, and propose legal reforms. The book includes state-by-state summaries of laws, regulations, services, and consumer concerns.
About the Author
Born in Nova Scotia, Canada, Joshua Slocum was the first man to sail single-handedly around the world. An international bestseller, Sailing Alone Around the World was a critical success upon its publication in 1900. Slocum enjoyed widespread fame in the English-speaking world, including an invitation to speak at a dinner in honor of Mark Twain, until his disappearance while aboard his boat the Spray in 1909. At the time, it was believed his boat had been run down by a steamer or struck by a whale, however it was later determined that the Spray could also have easily capsized. Despite a lifetime at sea, Slocum never learned to swim. He was declared legally dead in 1924.

When she's not working full time or running her daughter to karate Lisa can be found with her nose in a book. She spends her free time reading, writing, and camping with her husband and daughter.