Surf Travel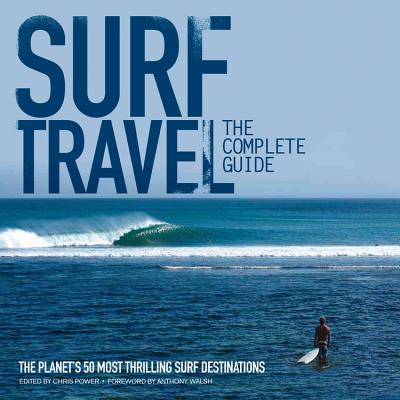 Surf Travel
The Complete Guide
Orca Publications, Paperback, 9780952364696, 224pp.
Publication Date: November 1, 2012
* Individual store prices may vary.
Buy at Local Store
Enter your zip code below to purchase from an indie close to you.
or
Not Currently Available for Direct Purchase
Description
Surfers live to travel. The quest to find perfect waves is something that grips surfers of all abilities, from novice to expert. Now, from the publishers of leading British surfing magazines Carve and SurfGirl, comes a new book covering every aspect of travel and exploration: where to go, where to stay, what equipment to take, how to get in shape for your trip, how to stay healthy abroad, and how to make the most of your time away. Packed with information and useful tips, as well as awesome photos, "Surf Travel "will inspire surfers of all levels to load up their boardbags and head off to find the waves of their dreams. The main section of the book focusses on the classic surfing destinations such as Queensland's Gold Coast, Hawaii's North Shore, the Maldives, the Mentawai Islands, Bali, the Canary Islands, Costa Rica, Barbados, Puerto Rico, Sri Lanka, Fiji, Tahiti, Southwest France and Southern California. Each location is described and dissected, with insider tips about how to score the best conditions. Several less-well known areas are also included for experienced surfers who thirst for pristine, uncrowded waves. Surfers of all levels will benefit from the range of useful tips on offer, whether they re going on a road trip to California, a camping trip to France, or a boat trip to Indonesia. All kinds of priceless advice is offered by a writing team of experienced travellers who ve visited scores of countries and put in the hard yards. "Surf Travel" features more than 250 colour photos by some of the world's top surf photographers including Andrew Shield, Alan van Gysen, Pete Frieden, Mickey Smith, Roger Sharp, Will Bailey, DJ Struntz, Simon Williams and Tim McKenna. The book also includes a comprehensive directory of travel resources where surfers can find information about the best surf camps, travel companies, and operators around the world.
About the Author
Chris started creating stories not long after she mastered joined-up writing, somewhat to the bemusement of her parents and her English teachers. But she received plenty of encouragement. Her dad gave her an already old Everest typewriter when she was about ten, and it was probably the best gift she'd ever received - until the inventions of the home-computer and the worldwide web. Chris's reading and writing interests range from historical, mystery, and paranormal, to science-fiction and fantasy. She refuses to be pigeon-holed and intends to uphold the long and honourable tradition of the Eccentric Brit to the best of her ability. In her spare time [hah!] she reads, embroiders, quilts and knits. In the past she has been a part-time and unpaid amateur archaeologist, and a 15th century re-enactor. She currently lives in a small and ancient city in the south-west of the United Kingdom, sharing her usually chaotic home with an extended family, three large dogs, a frilled dragon (Australian lizard) aka Loki, sundry goldfish and tropicals.

Anthony Walsh, a professor of Criminology at Boise State University, received his Ph.D. from Bowling Green State University at the ripe old age of 43. He has field experience in law enforcement and corrections. He is the author of over 150 journal articles/book chapters and 34 books, including Biology and Criminology (Routledge, 2009), Feminist Criminology Through a Biosocial Lens (Carolina Academic Press, (c)2011), Law, Justice, and Society (with Craig Hemmens, Oxford University Press, 2011), Correctional Assessment, Casework, and Counseling (with Mary Stohr, American Correctional Association, 2011), The Neurobiology of Criminal Behavior: Gene-Brain-Culture Interaction (with Jon Bolen, Ashgate, 2012), The Science Wars: The Politics of Gender and Race (Transaction, 2013), Criminological Theory: Assessing Philosophical Assumptions (Anderson/Elsevier, 2014), Biosociology: Bridging the Biology-Sociology Divide (Transaction, 2014), and Criminology: The Essentials (Sage, 2015). His interests include the biosocial criminology, statistics, and criminal justice assessment and counseling.