Bone Sharps, Cowboys, and Thunder Lizards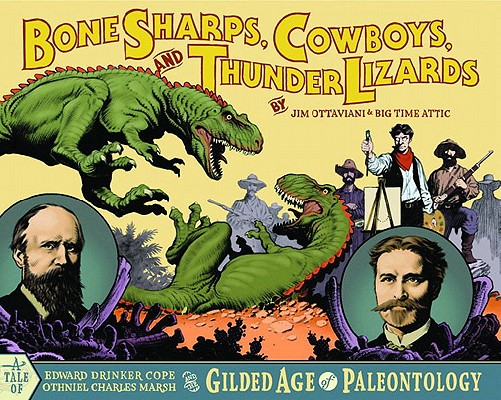 Bone Sharps, Cowboys, and Thunder Lizards
Edward Drinker Cope, Othniel Charles Marsh, and the Gilded Age of Paleontology
G.T. Labs, Paperback, 9780966010664, 165pp.
Publication Date: October 11, 2005
* Individual store prices may vary.
Buy at Local Store
Enter your zip code below to purchase from an indie close to you.
or
Buy Here
Description
The Wild West provided the setting for some famous battles, but the gunfight at O.K. Corral doesn't hold a candle to the Bone Wars. Following the Civil War, the (Re-)United States turned its attention to the unexplored territories between the Mississippi and the Pacific. The railroads led the way, and to build them we blasted through mountains and leveled valleys and exposed rock that hadn't seen the light of day for millions of years. This is the story of Edwin Drinker Cope and Othniel Charles Marsh, two scientists who found and fought for those bones, and the artist Charles R. Knight who almost single-handedly brought dinosaurs back to life for an awestruck public. Guest starring Chief Red Cloud and hundreds of his Indian Braves, the gun-totin' and gamblin' Professor John Bell Hatcher, colossal and stupefying Dinosauria of the New World, and featuring special appearances by The Cardiff Giant, P.T. Barnum, Buffalo Bill Cody, Ulysses S. Grant, Alexander Graham Bell, and a plentiful supporting cast of Rogues and Gallants from the Eastern Scientific Establishment and The Old West, the colorful supporting cast makes for a rich blend of history, adventure, science, and art.

About the Author
Jim Ottaviani ("Feynman", "Primates") is the world s preeminent writer of comics and graphic novels about science. Notable works include a biography of Niels Bohr and the fast-paced tale of the desperate lives of early paleontologists and "T-Minus: The Race to the Moon", from Aladdin books. He has worked as a nuclear engineer and is currently employed as a reference librarian in Ann Arbor, Michigan.