The Letter from Death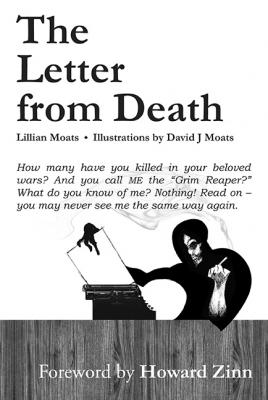 The Letter from Death
Three Arts Press, Paperback, 9780966957631, 141pp.
Publication Date: August 1, 2009
* Individual store prices may vary.
Buy at Local Store
Enter your zip code below to purchase from an indie close to you.
or
Not Currently Available for Direct Purchase
Description
Lillian Moats' latest book, The Letter from Death, features a foreword by Howard Zinn and 20 evocative full-page illustrations by David J Moats. This slim volume casts a bright light on how our unexamined fear of death has, throughout history, misdirected our energies–away from the real and immediate challenges of this world and toward unnecessary war, injustice and self-destruction. Death's philosophical essay, addressed to the whole of humanity, is as poignant as it is polemical. The Letter from Death is both stylistically daring and politically charged, and will challenge even the most open-minded readers to re-examine the basis of their beliefs about death, life and "human nature."
About the Author
Lillian Moats is a writer, artist and filmmaker living near Chicago. She earned a bachelor of fine arts degree from the University of Michigan and a Masters degree from the University of Wisconsin. She has won over 40 international film festival awards (including 6 Cine Gold Eagles) for the animated art films she has produced with her filmmaking partner, JP Somersaulter. The Letter from Death is the fourth book by Lillian Moats.



Howard Zinn (1922-2010) was a historian, playwright, and social activist. His many books include A People's History of the United States, which has sold more than two million copies.
Praise For The Letter from Death…
(July 1, '09 issue of BOOKLIST) "…In her fourth book, Moats performs an astonishing feat. By imagining Death as a patient and suffering entity fluent in human affairs, she broaches matters of daunting complexity with galvanizing directness. … this clarion critique offers an arresting perspective on religion, our 'growing militarism,' our 'inexhaustible genius for denial,' and our paradoxical failure to nurture our best qualities. … Moats has created a wise, unsettling, and beautiful book."
--Donna Seaman, BOOKLIST
"'Death' is our guide in Moats' elegant exploration of imagined and constructed hells, the former deriving from pre- and early Christian theological concepts, the latter from medieval and modern military technology. … The Moats collaboration is truly successful, thought and art are admirably matched …
--Peter Skinner, FOREWORD MAGAZINE
"The Letter from Death is an intelligent and delightful exploration of the human comic tragedy. It has the light flavor, wit, and prick of Praise of Folly and Screwtape Letters but the deep insights and jabs come more from the perspective of Epicurus. This is a book that thoughtful people will want to give to thoughtful friends."
--Philip Regal, Author of The Anatomy of Judgment, Professor Emeritus, University of Minnesota
"…'The Letter from Death' is well worth the read for those seeking political commentary with something fresh mixed in."
--Paul T. Vogel, MIDWEST BOOK REVIEW