Ghosts of the Eto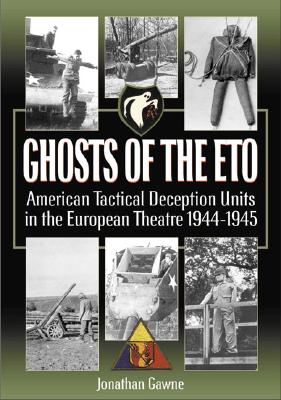 Ghosts of the Eto
American Tactical Deception Units in the European Theater, 1944 - 1945
Casemate, Hardcover, 9780971170957, 342pp.
Publication Date: August 28, 2002
* Individual store prices may vary.
Not Currently Available for Direct Purchase
or
Shop Local
Enter your zip code below to purchase from an indie close to you.
Description
No history of the war in Europe has ever taken into account the actions of the men of the US 23rd Special Troops. These men took part in over 22 deception operations against the German Army. Some of these operations had tremendous impact upon how the battles in Europe were fought. The men who participated in these actions were sworn to secrecy for 50 years, and are only now willing to talk about their role.The 23rd was composed of four main units. A signal deception unit to broadcast fake radio signals, an engineer camouflage unit to set up rubber dummies of tanks and trucks, a combat engineer unit to construct emplacements and provide local security, and a sonic deception company. The sonic unit was developed to fool German listening posts by playing audio recordings of various sounds, such as tanks moving up or bridges being built.The 23rd was the only tactical deception unit of the American Army in World War ll combining all aspects of deception. This book also covers the birthplace of sonic deception: the Army Experimental Station at Pine Camp; and their smaller sister unit, the 3133rd Sonic Deception company that saw action for 14 days in Italy. Jonathan Gawne is a leading military historian and is the author of the best selling Spearheading D Day and The US Army Photo Album (both published by Histoire & Collections and available from Casemate) as well as books in the Greenhill Books GI Series . He has contributed articles to numerous military magazines. He lives in Framingham, MA.REVIEWS ..". provides the reader with an informed and informative look at the 23rd Special Troops, who fought the German army at the end of World War II using deception as an effective military tactic. Telling the compelling story of courageous and cunning soldiers through declassified memos and the testimony of survivors, Ghosts Of The Eto is highly recommended reading as being a simply fascinating military history of a hidden aspect of World War II that would have a profound and lasting influence on military strategy and tactics."Midwest Book Review Jonathan Gawne's engrossing book outlines US Army Psychological Warfare tactics employed to befuddle Germans in World War II.Armorama.
About the Author
Jon Gawne is considered one of the leading experts on the history of American Army uniforms and equipment in both world wars. His numerous articles for Militaria Magazine have covered everything from the shortage of winter clothing during the Battle of the Bulge to the history of dog tags. His writings have been translated into many languages, including French, Italian and Czech, and are equally popular in both Europe and the US. He has been a technical consultant for films and museums. He lives in Massachusetts with his wife and a small spoiled dog, in a house overrun with books, documents and military memorabilia.