Cultivating a Movement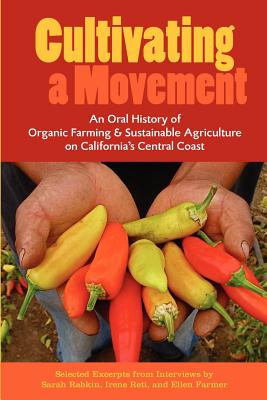 Cultivating a Movement
An Oral History of Organic Farming and Sustainable Agriculture on California's Central Coast
University Library, Uc Santa Cruz, Paperback, 9780972334365, 342pp.
Publication Date: September 21, 2011
* Individual store prices may vary.
Buy Now
or
Shop Local
Enter your zip code below to purchase from an indie close to you.
Description
A synergistic web of visionary farmers, activists, educators, and researchers is transforming the food system in Central California and beyond. This first extensive oral history of organic farming and sustainable agriculture features 27 inspirational and colorful stories that document the emergence of this movement from the confluence of several earlier movements of the 1960, and 1970s, including the environmental, anti-war, back-to-the-land, farmworkers, and co-operative living movements, as well as the developing sciences of ecology, agroecology, and integrated pest management.



Based on based on a larger archive of oral histories released by the University of California Santa Cruz's Regional History Project in 2010, the book documents a multifaceted and interdependent community of change-makers who speak for themselves, offering a window into the dynamic history of a movement. The project focuses on Central California, a hotbed of organizing which has shaped sustainable food systems at the national and international level. The complete archive of transcripts, audio clips, photographs, and other resources is available on the UCSC Library's website.


Praise For Cultivating a Movement…
If you find yourself depressed about the possibilities for positive change, pick up Cultivating a Movement and read a few stories told by people who have been devoting their lives to creating a sustainable food system in the heartland of agribusiness. As one of them says, to be a successful farmer "you have to have a need, a desire, perseverance, strength and insanity." That goes for the whole lot of them. These are inspiring people.

—Joan Dye Gussow, author This Organic Life and Growing, Older.





Personal stories are always a wonderful way to learn about past events. The personal narratives of farmers, educators, researchers, artists and conservationists who were part of the evolution of sustainable agriculture and organic food and farming systems in California's Central Coast—and reaching out to the rest of the country--are truly inspiring. Cultivating a Movement is a book everyone interested in the history of sustainable agriculture will want to read.

—Frederick Kirschenmann, author of Cultivating an Ecological Conscience: Essays From a Farmer-Philosopher.





Reading Cultivating a Movement is like sitting and listening to a bunch of Old Time Pioneers reconstruct the origins of the organics and sustainability movement. While lots of blind alleys were gone down and plenty of mistakes were made and are openly acknowledged, what characterizes the pioneers was their willingness to try different approaches, to experiment, and their ability to become part of a wide-ranging community while pursuing their individual goals. This book also demonstrates how a new food system requires pioneers in a host of fields: agriculture, distribution and marketing, scientific development and application, learning about consumers and the character of consumption, and how individual actors found their own roads in an emergent complex agrifood system. And it's pleasurably good reading.

—Bill Friedland, Professor Emeritus of Community Studies and Sociology, UC Santa Cruz