The Sky's Not Falling!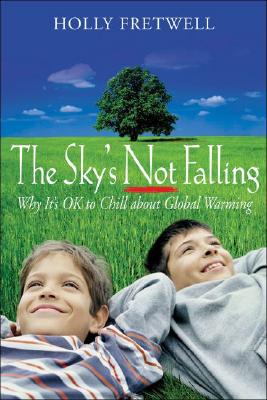 The Sky's Not Falling!
Why It's Ok to Chill about Global Warming
World Ahead Publishing, Paperback, 9780976726944, 126pp.
Publication Date: September 18, 2007
* Individual store prices may vary.
Buy at Local Store
Enter your zip code below to purchase from an indie close to you.
or
Buy Here
Description
The Sky's Not Falling is the balanced alternative to Scholastic's fear-inducing global warming kids' book.Debuting the same day as celebrity wife Laurie David's Down-to-Earth Guide to Global Warming, The Sky's Not Falling is for parents sick of seeing their kids indoctrinated by has-been politicians and Hollywood stars. The Sky's Not Falling is everything Scholastic's book should be - fact-filled, apolitical, fun and optimistic about the future of our magnificent, ever-changing planet. In The Sky's Not Falling author Holly Fretwell, a natural resources management expert, shows kids 9-12 that its human ingenuity combined with an enviropreneurial spirit will lead us to a bright environmental future.Parents confronted by Photoshopped pictures of drowning animals and faux documentaries will embrace a book that educates rather than manipulates. Holly Fretwell brings real credentials to the debate, giving kids the scoop, not just about global warming, but the real-world consequences of the Left's responses to it.
About the Author
Holly Fretwell graduated from Montana State University with a B.A. in political science and an M.A. in resource economics. Currently, she is an adjunct professor at Montana State University and a Senior Research Fellow at the Property and Environment Research Center (PERC.) Fretwell is published in both professional journals and the popular press, including the "Wall Street Journal".