Ocean Seasons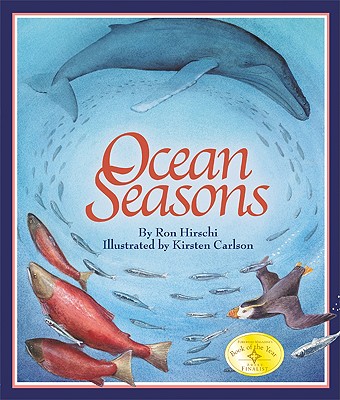 Ocean Seasons
Arbordale Publishing, Hardcover, 9780977742325, 32pp.
Publication Date: May 2007
* Individual store prices may vary.
Buy Now
or
Shop Local
Enter your zip code below to purchase from an indie close to you.
Description
Seasons change in the ocean much as they do on land. Spring brings new plants and baby animals, summer oceans glow with sparkly plankton lights, and autumn winds blow across the open water. In winter the humpback whales migrate to warmer waters, just as some land animals move to warmer climates. The cycle begins again as they return to the northern waters in the spring. In fun, fanciful form, Ocean Seasons introduces plants and animals that are joined through the mix of seasons, food webs, and habitats beneath the waves. While set inthe Pacific, similar changes occur in the Atlantic also. The For Creative Minds learning sections features and Ocean Food Web Card Game.
About the Author
Ron Hirschi is the author of more than fifty books for young readers, including Searching for Grizzlies; When Night Comes; and When Morning Comes, all of which feature photographs by Thomas D. Mangelsen. Mr. Hirschi lives in Hadlock, Washington.

Kirsten Carlson says that she has been drawing as long as she can remember. But as she grew up in Missouri, she decided to become a marine biologist and moved to California to pursue a Masters in the field. After a very inspiring research expedition to Antarctica, she realized that communicating the beauty and wonder of the natural world to others was more important to her than the research. She decided to combine her love of science and art by becoming a scientific illustrator, and has been combining science, art and design as a freelance illustrator and graphic designer ever since. She has also worked at the Monterey Bay Aquarium as a web designer, print graphic designer and as an exhibit graphic designer. Prior to illustrating Ocean Seasons, Kirsten illustrated The Giraffe Who Was Afraid of Heights, also published by Sylvan Dell. Kirsten lives in Gig Harbor, Washington, with her husband, Dave; her four-footed friends: Tawny, DJ, Pogo, Eggnog; and her jeep, Hazel.