Worms Eat My Garbage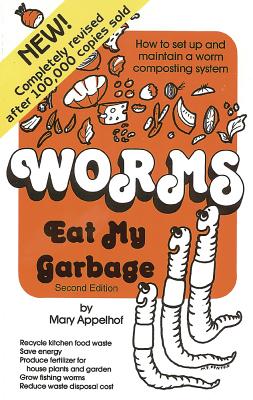 Worms Eat My Garbage
Flower Press, Paperback, 9780977804511, 162pp.
Publication Date: October 6, 2003
* Individual store prices may vary.
Not Currently Available for Direct Purchase
or
Shop Local
Enter your zip code below to purchase from an indie close to you.
Description
A new edition of the definitive guide to vermicomposting--a process using redworms to recycle human food waste into nutrient-rich fertilizer for plants. Author Mary Appelhof provides complete illustrated instructions on setting up and maintaining small-scale worm composting systems. Internationally recognized as an authority on vermicomposting, Appelhof has worked with worms for over three decades. Topics include: bin types, worm species, reproduction, care and feeding of worms, harvesting, and how to make the finished product of potting soil.
About the Author
Mary Appelhof was recognized as an international authority and lecturer on small-scale vermicomposting. As owner of Flowerfield Enterprises and Flower Press, she dedicated over 20 years to the research, development, and marketing of products related to the earthworm, such as the Worm-a-way worm bin for which she held both Canadian and USA patents. Mary received many honors including a National Science Foundation grant, was an invited speaker at the Global Assembly of Women and the Environment, and received special merit recognition as one of Renew America's Environmental Success Stories. Mary also coordinated the international research conference workshop on the Role of Earthworms in the Stablization of Organic Residues and compiled its proceedings. An award-winning photographer, she held master's degrees in education and biological sciences, and taught high school biology. Mary passed away in 2005.