Emblems of Desire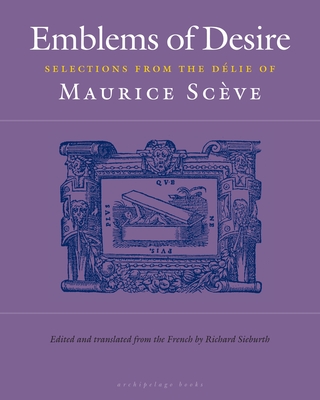 Emblems of Desire
Selections from the Delie of Maurice Sceve
Archipelago Books, Paperback, 9780977857654, 224pp.
Publication Date: July 1, 2007
* Individual store prices may vary.
Buy at Local Store
Enter your zip code below to purchase from an indie close to you.
or
Not Currently Available for Direct Purchase
Description
A forgotten masterpiece of French poetry, " Emblems of Desire" is a selection of 449 love poems first published in Lyons in 1544. Full of passionate ironies and charged obscurity, ScEve is considered a sixteenth-century MallarmE. His oblique self-portraiture laid the groundwork for many contemporary poets. This edition is accompanied by fifty emblems created by the author. The illustrations and Latin mottoes contained within each emblem offer poignant, and often witty, responses to his poems.
About the Author
Maurice ScEve (c.1500-c.1564) was at the center of Lyonnese cOterie that elaborated the theory of spiritual love.
Praise For Emblems of Desire…
Richard Sieburth has performed a magnificent service by translating a large selection of the book-length love poem 'Délie' by Maurice Scève, one of the greatest French Renaissance poets, whose work is hardly known in English. He has found a contemporary equivalent for Scève's extremely compact music and enabled it to breathe in English, while still retaining the tension of the original. — John Ashbery

Richard Sieburth has performed a miracle of literary invention. He has made these poems sing. — Paul Auster

The most intense and tightly controlled verse written in the French Renaissance. — Jerry C. Nash, author of Love Aesthetics of Maurice Scève

The translations are tours de force, rendering Scève's concentrated phrases into accessible, often charming English verse. — Margaret M. McGowan, Times Literary Supplement

A true credit to both an exacting and inventive work, Sieburth's translations remain the highlight of this handsome collection of scorned love, an impressive English introduction to the 'Délie'. — Rain Taxi

Recovered, rediscovered early in the twentieth century, the radically inventive and challenging poetry of Maurice Scève forms an important link in the history of European lyric from the Renaissance to the present. Its complexly erotic silences and harmonies speak as vividly to our own deeply unsettled moment as they must have to that vital circle of poets and humanists of Lyons, who were among the first in France to explore the Petrarchan field of desire. What a great gift, to receive these virtuosic renditions in English from one of our finest living scholars and translators, Richard Sieburth. — Michael Palmer

It is rare to see a book so perfectly equipped to both befriend the non-specialist reader and aid the scholar. If Scève's work is finally to enter the mainstream, this is the book that will make it possible. — Jennifer Grotz, Boston Review

An exquisite version, a marvelous contribution. — Harold Bloom