Stop the Presses!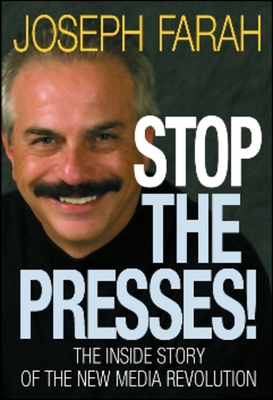 Stop the Presses!
The Inside Story of the New Media Revolution
WND Books, Hardcover, 9780979045103, 273pp.
Publication Date: April 10, 2007
* Individual store prices may vary.
Buy Now
or
Shop Local
Enter your zip code below to purchase from an indie close to you.
Description
Stop the presses You've heard newspaper editors shout that phrase in old movies. Joseph Farah was never a newspaper editor in the movies - he was one in real life. But he no longer works with ink, presses and newsprint. Fourteen years ago, Farah founded WorldNetDaily.com (WND.com) and became a pioneer on the New Media frontier. Today WND.com is the largest independent news service on the Internet. Stop the Presses is not just Farah's story, but that of a new wave of media superstars who have forever changed the way Americans get their news and express their views. Rush Limbaugh, Sean Hannity, Matt Drudge, these are just some of the New Media names that old-school media like ABC News has acknowledged rule our world. This revolution has shaken the foundations of the mainstream media, eroding its ability to control the flow of information... and with it, the power to control the lives of millions around the world. The New Media revolution's beginnings have never been told - until now.
About the Author
Joseph Farahis founder, editor and chief executive officer ofWorldNetDaily.com, one of the internet's largest independent news site, attracting over 8 million unique visitors a month. He is the author or co-author of thirteen books, including "The Tea Party Manifesto", and his classic, "Taking America Back", now in its third edition and fourteenth printing. Farah has produced a dozen bestselling documentaries under the WND Films banner including "The Isaiah 9:10 Judgment, Blood Moons", and most recently, "The Harbinger Man: The Jonathan Cahn Story". He co-authored the"New York Times"bestselling books including: "See, I Told You So"in collaboration with Rush Limbaugh and has also published many"New York Times"bestselling titles under WND Books such as"The Savage Nation"and"The Manchurian President".