Autonauts of the Cosmoroute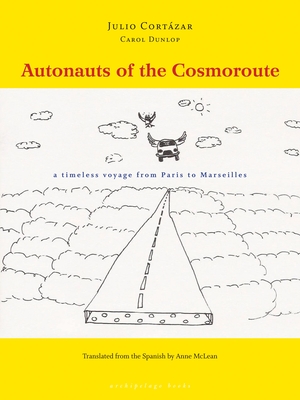 Autonauts of the Cosmoroute
Archipelago Books, Paperback, 9780979333002, 354pp.
Publication Date: November 26, 2007
* Individual store prices may vary.
Not Currently Available for Direct Purchase
or
Shop Local
Enter your zip code below to purchase from an indie close to you.
Description
"Anyone who doesn't read CortAzar is doomed."--Pablo Neruda
Autonauts of the Cosmoroute is a love story, an irreverent travelogue of elaborate tales and snapshots detailing Julio CortAzar and Carol Dunlop's thirty-three-day voyage on the Paris-Marseilles freeway in 1982. Uncovering the freeway's hidden underbelly, they push life and literature to surreal extremes. This shot of sun is a satire on modern travel and the great explorers, and an intimate look at one of the greatest literary spirits of our time.
Julio CortAzar (1914-1984) was a true giant of twentieth-century Latin American literature. He met and married Carol Dunlop in France in 1982.
Anne McLean has translated the work of Carmen MartIn Gaite, Javier Cercas, Ignacio Padilla, Orlando GonzAles Esteva, and Luis SepUlveda, as well as other works of Julio CortAzar.
About the Author
Carol Dunlop was a French-speaking Canadian writer. Dunlop and Cortazar met and wed in 1979. Dunlop died in 1982 in Paris.

Julio Cortazar (1914-1984), Argentine novelist, poet, essayist, and short-story writer, was born in Brussels, and moved permanently to France in 1951. Cortazar is now recognized as one of the century's major experimental writers, reflecting the influence of French surrealism, psychoanalysis, and his love of both photography and jazz, along with his strong commitment to revolutionary Latin American politics.

Anne McLean has won the Independent Foreign Fiction Prize twice, as well as the Premio Valle Incla n. She has translated the works of Javier Cercas, Julio Cort zar, Carmen Mart n Gaite, Ignacio Padilla, and Evelio Rosero.
Praise For Autonauts of the Cosmoroute…
Idols invite respect, admiration, affection, and, of course, great envy. Cortázar inspired all of these feelings as very few writers can, but he inspired, above all, an emotion much rarer: devotion. He was, perhaps without trying, the Argentine who made the whole world love him. —Gabriel García Márquez

Cortázar's last book is unexpectedly his happiest and most playful, both linguistically and with the vicissitudes of life... Every page reveals that there is no end, because the end is to go farther, to cross all boundaries. Twenty years later Anne McLean restores the joy and liberty of the original to these autonauts. And it seems to me that Cortázar and Dunlop are still there, on their freeway, alive, happy forever inside a motionless time. —Tomás Eloy Martínez

Anyone who doesn't read Cortázar is doomed. Not to read him is a serious invisible disease, which in time can have terrible consequences. Something similar to a man who has never tasted peaches. He would quietly become sadder . . . and, probably, little by little, he would lose his hair. —Pablo Neruda

This is a special book, definitely worth reading, one that will alter your view of highways forever. —Chad W. Post

The journey undertaken by Cortázar and his wife and collaborator Carol Dunlop is quixotic in the largest sense. At one level, it is an adventure stood on its absurd head. At another, it is something graver—a mask of comedy concealing the enigma of an archaic smile. —Richard Eder, The Los Angeles Times Book Review